Nine Miles Down
(2009)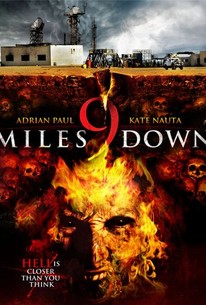 AUDIENCE SCORE
Critic Consensus: No consensus yet.
Movie Info
In the Sahara desert, a sandstorm batters a deserted drilling station. Thomas "Jack" Jackman (Paul) a security patrolman, battles through the high winds to find out why all contact with the station has been lost. Originally built for gas exploration, and then abandoned, the site had recently been taken over by a multi-national research team intent on drilling deeper into the earth's crust than ever before.
Critic Reviews for Nine Miles Down
There are no critic reviews yet for Nine Miles Down. Keep checking Rotten Tomatoes for updates!
Audience Reviews for Nine Miles Down
Mediocre thriller that really fails to entertain, Nine Miles Down is a film that should have been much better than what it turned out to be. The film started off well enough, but the film quickly ran out of steam and ended up being a dull, predictable affair that ended up being quite boring and uninteresting. The script is underdeveloped and lacks anything really interesting. The cast are bland and don't offer anything interesting to the film. I think that's a shame because this one really could have been great. Unfortunately, it fails to be entertaining or memorable for the viewer. This film lacks in many respects and should have reworked significantly before being green lit. This is just a thriller that ends up lacking in terms of thrills and ideas that should have worked. This film ends up being a waste of time with nothing really entertaining or memorable. I really wanted to enjoy the film, but it just failed to be any good. The result is a mediocre movie that leaves a lot to be desired and you are simply disappointed by the time the credits roll. Nine Miles Down is a movie that is boring and pointless; it really isn't worth your time. If you're looking for something good here, you'll be disappointed. This film is flawed and could have been much better. Skip out on Nine Miles Down, you'll be glad you did. The one just doesn't deliver on its premise and it's a mess due to a lazy cast and direction. This film was a letdown and I expected much more.
Nine Miles Down Quotes
There are no approved quotes yet for this movie.