Osaka Elegy (Woman of Osaka) (Naniwa erejî)
(1979)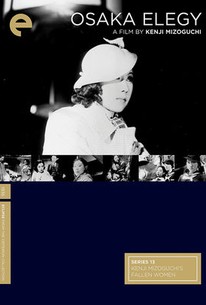 Movie Info
This is one of director Kenji Mizoguchi's first true masterworks in his long, highly celebrated career. Ayako, a young switchboard operator, tries to resist the advances of Asai, the owner of the pharmaceutical company where she works. Her love interest Nishmura, a young executive at the same company, does not seemed bothered, and her drunken father, who is up to his eyes in debt, is even less helpful. After a loud argument, her father throws her out of the house. With nowhere else to go, Ayako becomes Asai's mistress. She tries to pay her drunken father's numerous debts and help her brother Hiroshi with his studies. They eagerly accept the money but instead of gratitude, they demand more. Thanks to a comical mix-up at a doctor's office, Asai's wife finds out and the affair comes to an abrupt end. Yet thanks to her father's drinking, her family's financial situation seems as pressing as ever, which all but forces Ayako into prostitution. Unfortunately, the police catch her in the act. Even though her father and brother have been living off her, they brand Ayako a disgrace and cast her out of the house to face an uncertain future. ~ Jonathan Crow, Rovi
Critic Reviews for Osaka Elegy (Woman of Osaka) (Naniwa erejî)
Audience Reviews for Osaka Elegy (Woman of Osaka) (Naniwa erejî)
My first Mizoguchi film, but already I am convinced that he is indeed as great as everyone says he is. My impressions of his style and technique will definitely grow and change as I watch more of his films, but I'm sure he will always remain a great director in my eyes. He is lesser known out of the Big 3 Japanese directors; I think his style is comparable to that of Ozu rather Kurosawa. Both Ozu and Mizoguchi have a similar knack for being able to tell stories which have melodramatic elements with great patience, serenity, and truth. Like with Ozu's films, there is not much that is overly sentimental or contrived, the film is well-paced and each frame is shot with great confidence in the ability to be slow-moving but still hold the audience's attention. A difference I noted is that Ozu's camera is more closer in and focused narrower on characters while Mizoguchi's camera is a little further back, did not utilize the tatami shot by placing the camera low, and the camera moved around more than Ozu's. It is only the first film I've seen of his, so I'll be learning more as I see more. In this film, Ishizu Yamada is Ayako Murai. She wants to marry Susumu Nishimura, a pathetic and selfish young romantic. He deserts her twice when she needs his support the most. She sleeps with her boss Asai to help her father and her brother financially. She gets mixed up with Mr. Fujino, which lands her in trouble with the law. Her tragedy is summed up by her line: "if I stay where I am, I don't know how much farther I'll fall". The police drop the charges, and she returns home but she is ruined because a newspaper runs a story about her arrest. In the end she is left all alone. Considered to be Mizoguchi's breakthrough film and it is a darn good one.
½
An interesting movie, the oldest film I've seen from Japan so far, actually. The best and worst thing about it is that the story is realistic. I say that it's also the worst thing because it made the film more boring than it could have been if it wasn't so realistic. It's a good thing too, though, because that's what makes it so sad. Also, I don't know if I'm just not used to the Japanese style or what, but I didn't care for the actors. Overall it's a pretty good movie, but I think it could have been better.
In "Osaka Elegy," Sonosuke Asai(Bankei Shiganoya), the owner of a pharmaceutical company, is so frustrated with his wife(Yoko Umemura) spending so many late nights with her women's association, that he threatens to get a mistress. She challenges him by saying he does not have the balls. To prove that he does in fact have them and that they are in working order, he preys on Ayako(Isuzu Yamada), a vulnerable employee who badly needs extra money because her father(Seiichi Takegawa) has embezzled and lost 300 yen on the stock market. Directed by Kenji Mizoguchi, "Osaka Elegy" is a familiar, yet powerful, melodrama that just goes to prove that sometimes the old stories never lose their punch. By being about a woman who does the wrong thing for the right reason, this one takes aim at the hypocrisies of society where having a mistress is alright, but only behind closed doors. For example, Ayako is attacked for not only being out in public at the theater with Asai, but also dressed like a married woman.
Osaka Elegy (Woman of Osaka) (Naniwa erejî) Quotes
There are no approved quotes yet for this movie.