Paris Belongs to Us (Paris Nous Appartient)
(1960)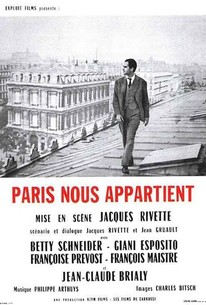 Movie Info
Paris Nous Appartient begins at the end-with a mysterious suicide. Curious as to why a young Spaniard would take his own life, Betty Schneider visits many of the places frequented by the dead youth. She learns from theatre-director Giani Esposito that the suicide victim was part of a sinister international conspiracy. She further learns from American-expatriate Daniel Crohem that Esposito has also been targeted for persecution by the conspirators. By the time Schneider realizes that the conspiracy was merely a figment of the neurotic Crohem's imagination, the terrified Esposito has killed himself. The intrigues of the plot take second place to the film's centerpiece: an eternally-in-progress stage production of Shakespeare's Pericles, Prince of Tyre. Now regarded as one of the pioneering efforts in the French "New Wave" movement, Paris Belongs to Us was also the first feature-length effort of director (and former critic and film theorist) Jacques Rivette. ~ Hal Erickson, Rovi
Critic Reviews for Paris Belongs to Us (Paris Nous Appartient)
Audience Reviews for Paris Belongs to Us (Paris Nous Appartient)
Jacques Rivette's first feature was filmed over the course of three years which goes to explaining some of the inconsistencies. At the heart of the plot is some sort of mystery/conspiracy, but we the audience never find out what exactly it is the characters are talking about. Though we never find out what is going on, the dialogue and goings on between each character never fail to keep your interest. This added with the experimental jazz style score makes a strange almost surreal film. Look out for cameos by Rivette, Claude Chabrol, Jacques Demy and a fabulous appearance by Jean-Luc Godard.
Paris Belongs to Us (Paris Nous Appartient) Quotes
There are no approved quotes yet for this movie.