Pretty Ugly People
(2008)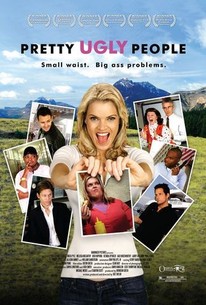 AUDIENCE SCORE
Critic Consensus: No consensus yet.
Pretty Ugly People Photos
Movie Info
Longtime friendships are put to the ultimate test when a dying woman summons her best friends from college into the wilderness for a four-day camping trip, and everyone quickly discovers that they haven't exactly been told the whole truth about her current condition. Lucy (Missi Pyle) has always been obese, and now that her health has taken a turn for the worse, she wants to spend her last days with the estranged college social group that helped her through one of the most difficult periods of her entire life. Upon learning that Lucy is on her deathbed, her loyal friends all rush to Montana in order to be by her side for one last weekend together. Immediately upon arriving, however, it's glaringly obvious to all of Lucy's friends that something isn't right. Her condition is a far cry from what she made it out to be in her desperate messages, and as tensions begin to rise Lucy realizes that the people standing before her today simply aren't the same people whom she remembered so fondly from college. With no modern conveniences to fall back on as the reunited group begins an arduous four-day hike into the wilderness, everyone's deepest fears and demons gradually claw their way to the surface, leaving Lucy to wonder whether her "final wish" was truly the brilliant idea she initially thought it to be.
Audience Reviews for Pretty Ugly People
You know, I've loved Melissa McCarthy ever since I first saw her in Bridesmaids. When I first saw the trailer all those years ago, I thought Melissa's character would annoy me, the character just had that vibe. But, color me surprised, when Melissa, in a cast full of tremendously funny and talented women, stole the show with a great comedic performance. And ever since then, I've been a big fan of the woman. Some would argue that she's just a female Kevin James when they criticize her or they use her weight as a reason for why she's not funny. The difference between Melissa and Kevin is the fact that, while Melissa does use her physicality as part of her performance, she's also got great comedic timing and delivery. She doesn't just use her 'weight' to get laughs, she uses all of the talents that she has at her disposal. Not to mention that, when it comes right down to it, Melissa McCarthy is a damn good actress and Kevin James couldn't act his way out of a paper bag if that bag was possessed by Daniel Day Lewis' spirit and it gave him lessons. The point is, Melissa McCarthy is pretty great. I started on this tangent because, as far as I can tell, this is one of Melissa's first major roles. Granted, it's in a small independent film and she had done some work prior to this point in supporting roles. Granted, this is also a supporting role, but I think it might have been the one that put her on people's radars, at least in Hollywood. Bridesmaids brought her so much more success and exposure, naturally. And, surprise surprise, like in almost every movie she's in, Melissa ends up being one of the highlights. And let me tell you that those highlights are difficult to come by when it comes to this movie. The idea is a good one. A woman tries to get all her college friends together for one last time as she goes on this hike trail to becoming the person that she wants to be. You see, she used to be fat and she had gastric bypass surgery and she is just four pounds away from her goal. She views her friends as the model of what her life should be like once she achieves her goal. Her friends, six of them I believe, reluctantly agree to go on this trail, even if Lucy (the formerly fat friend) was misleading her friends in getting them to agree to go in the first place. Things, naturally, do not go as planned as the dynamics of the friendship are broken from the inside out. The title of the movie is pretty apropos when it comes to these people and how detestable they can be at times. And that's the main problem with this film, the characters are just about the most unlikable people you will ever meet. With the exception of, maybe, Mary and Trevor, all of these people are the biggest assholes to each other and it's kind of an unpleasant film to watch at times. It's difficult to see how these people ever managed to be friends in the first place. There's racism, sexism, homophobia, adultery and that's just off the top of my head. I get the idea of the film and exploring these very flawed people and their relationships with one another. But, the fact of the matter is, that we are all flawed in whatever way that may be and, I'm sure, that most of us aren't major fucking dickheads to one another, least of all to our friends. You can write a movie with flawed characters that you can relate to because, once again, we all have our flaws and maybe we would be able to see ourselves in some of these people and we might be able to reflect on our own choices and mistakes. Not this movie, there's no possible fucking way that anyone, ever, could relate to any of these detestable people. And it's not even that the movie is bad, it's just that the characterizations leave a lot to be desired. The film also lacks structure, it's almost like you're watching one long skit. They jump all over the place from character to character, focusing on whatever issues the film wants to discuss at the time. The problem is that it feels like they're ticking off a box of 'complex' issues. 'Oh, we discussed racism, we can check off that box, now it's time to deal with homophobia' and so and so forth. That's no way to write a movie, it just feels like an incredibly forced and artificial. These issues have to come up organically for them to feel like actual character development and/or progression. The acting is perfectly solid, but these actors just can't elevate a script with contemptible characters. The ending also feels a little too perfect. Granted, the friends went through something very serious and that might have brought them together, but it's all wrapped up with a neat little bow. In all honesty, this movie is fine. It really is fine, I found it to be perfectly watchable. But there is no denying that the characters are just insufferable and the structuring of the script and its themes is piss-poor, at best. Yes, this is a perfectly fine movie to watch if you want something to kill time with. But it's not an entertaining movie and you really shouldn't watch it, there are better things to do with your time. You could go out and get laid or something. Three minutes of sex is more satisfying than this.
Jesse Ortega
Super Reviewer
The title says it all. Ugly (on the inside) folks, college friends, meet again at the behest of a member that is dying. The meeting is occasion for some "changes" that make everyone a less ugly person, and we're supposed to feel good about it, through the magic of quirky independent film charm. But that's not what happens. It's the script's fault. That's enough about that.
Kevin M. Williams
Super Reviewer
½
Decent acting but the characters are by and large just as the title suggests pretty ugly people.
Pretty Ugly People Quotes
There are no approved quotes yet for this movie.