Red, White and Zero (The White Bus)
(1967)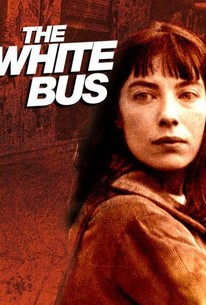 AUDIENCE SCORE
Critic Consensus: No consensus yet.
Movie Info
Lindsay Anderson and Shelagh Delaney's The White Bus is a surrealistic film about a secretary who takes a strange trip, part of which takes place on the eponymous vehicle. The nameless girl has a seemingly dull life, which is interrupted by periodic flights of fantasy involving suicide, recreations of paintings, and pieces of meat that suddenly run blood-run. Between these fantasies are the details of her real life, especially as she begins a journey home to visit her family. She encounters a wide variety of people -- a teen-ager exceedingly angry that his rubgy team has lost a match, a young man who proposes marriage, a lord mayor who enjoys feeling her leg -- as she travels to locations ranging from a community center and a public library to a natural history museum and a civil defense demonstration. Along the way, the girl maintains a façade of passivity, even when events become quite surreal, as when all of her traveling companions turn into human dummies during the civil defense drill. At the end of the film, she enters a restaurant and eats dinner while the owners pile chairs on the tables around her, obscuring her from view and complaining about the never-ending pace of work.
Rating:
NR
Genre:
,
Directed By:
Written By:
In Theaters:
Runtime:
Studio:
United Artists Corporation
Critic Reviews for Red, White and Zero (The White Bus)
There are no critic reviews yet for Red, White and Zero (The White Bus). Keep checking Rotten Tomatoes for updates!
Audience Reviews for Red, White and Zero (The White Bus)
½
While a sharp little movie in its own right, this 45-minute short is most historically significant as a precursor to the classic "If...," which Lindsay Anderson directed the following year. The two films share some traits: the occasional jumps from black-and-white to color, Arthur Lowe portraying an older authority figure and, most importantly, a bleak cynicism about the status quo. The big difference is that "If..."'s Mick Travis turns to violent revolt in the end, while the unnamed female lead of "The White Bus" is just a passive observer. Indeed, the actress (Patricia Healey) only has two spoken lines, despite being almost continuously on camera. "The White Bus" is more a series of vignettes than a story. Healey enters the film as a bored secretary staying late, finishing up her work as a janitorial crew glumly cleans around her. In the first of many surreal moments, she briefly imagines herself hanging dead from the ceiling. From there, she makes her way to the train, temporarily encountering two curious characters: a man who's overly immersed in a soccer broadcast and, more memorably, a business-class patsy (similar to the derby-wearing boobs whom "Monty Python" often lampooned) who randomly latches onto her to deliver a babbling defense of his naive thoughts on women and class divisions. As she boards the train, she assures this total stranger "I'll write," leaving him behind to melodramatically proclaim his love and belt out a few lines from a song. Here, we realize this film will be a work of symbolism, and not some documentary-like portrait of a contemporary young woman. The girl climbs aboard a train car full of yet more soccer fans, and her erratic journey begins. There's a cut, and suddenly the whole group is absurdly waking from deep slumber. One man even slept in the overhead baggage compartment. How much time has passed? We don't know. She takes a short walk to catch a white bus with "SEE YOUR CITY" emblazoned on the side. It's a tour intended to show off the efficient prosperity of modern England. This is where the film gains three primary characters: a female guide, an older man dressed in "Lord Mayor" garb (Lowe) and a ceremonial mace-bearer. Presumably, the latter two serve as totemic representations of the establishment. The strange imagery continues throughout the film. The tour group (elderly, except for Healey) sees an industrial plant, a housing block, a park, a school for girls, a library, a museum, a civil-defense demonstration and more. Of particular interest is a brief stop at a theater production: the actor singing in German onstage is none other than Anthony Hopkins at the beginning of his career. He is shot from a distance, and is not even recognizable during his few seconds onscreen. Along the way, stuffy Lowe takes over most of the narration and, at one point, strays into a paranoid complaint about books which promote homosexuality. We are not meant to trust him. Anderson and screenwriter Shelagh Delaney obviously disdain this empty presentation of a grand society and its "progress." By the end of the film, Healey has left the tour -- her companions meet a much grimmer fate -- and seems to rediscover smaller pleasures such as an old woman affectionately shaving her husband, another woman practicing piano and a couple bantering as they close down their humble diner. There's also a quick appearance by Barry Evans, playing a womanizing lad not so different from his starring role in "Here We Go 'Round the Mulberry Bush" a year later. "The White Bus" is full of bizarre sights, and revealing them all would spoil the fun. Nothing is quite realistic -- even the characters' footsteps on the pavement seem oddly amplified. If you can find this rare film, don't miss it.
Eric Broome
Super Reviewer
A young woman's semi surealistic journsy accros London. Along the way she meets people and sees the sights. I'm not sure this was really a movie but I saw Anthony Hopkins name in the credits. I didn't see him and I was not interested enough to go back and look for him.
merlin g
Red, White and Zero (The White Bus) Quotes
There are no approved quotes yet for this movie.
Discussion Forum
Discuss Red, White and Zero (The White Bus) on our Movie forum!