Rocket Singh - Salesman of the Year
(2009)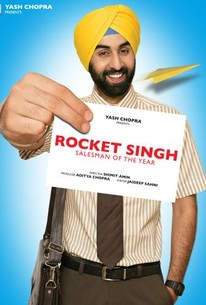 Rocket Singh - Salesman of the Year Photos
Movie Info
Harpreet Singh Bedi has just graduated, and his marks are, well, let's say a little embarrassing. But marks never stopped him from dreaming of an exciting and adventurous career, and they never will. He takes a deep, positive breath and dives into the world of sales, rumored to be an ultra cool career for all smart people blocked from entering medical, engineering or business schools by brainless entrance exams. It's everything he dreamt of, with its smooth dressing, smoother talking men and women who can sell ice to an Eskimo, dreams to an insomniac, and a lifetime mobile connection to a dying man. But soon, his idea of success begins clashing with the strange ways of these 'professionals' and 'bosses' he looked up to.
Critic Reviews for Rocket Singh - Salesman of the Year
Audience Reviews for Rocket Singh - Salesman of the Year
Well, this was one of those movies that I almost turned off after about 40 min. It seemed like a decent movie, but I wasnt sure it was for me. But, I kept watching it for some reason. And I am so glad that I did. It turned out to be a really good movie. Very interesting, and really well made. I love movies where the underdog overcomes. This is definitely one of them.
Cynthia S.
Super Reviewer
Great movie that centralizes on a young college graduate that wishes to enter the business world of sales and marketing. Harpreet Singh Bedi lands a job with a computer company, and quickly learns that the position and the people working there aren't exactly what he had originally envisioned. The ethics involved alone causes problems with his own values, and this creates havoc with fellow salesmen, the sales manager, and the company director. The humiliation he endures allows him to take it upon himself to create a small company within the one he works for, and thus produces greater responses and connections utilizing the principles of values he abhors: co-op planning. Ranbir Kapoor, Shazhan Padamsee, Sharon Prabhakar, Gauhar Khan, and Prem Chopra stars. Definitely worthy!
½
Thought it'd be shitty. But it turned out to be waaaaaaaay faaaaaaaaaar better than what I'd expected. Indeed a pleasant surprise!!!
familiar stranger
Super Reviewer
Rocket Singh - Salesman of the Year Quotes
There are no approved quotes yet for this movie.