The Rocking Horse Winner
(1949)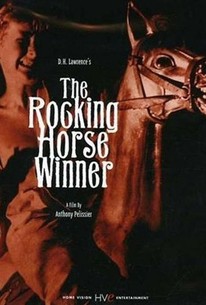 The Rocking Horse Winner Photos
Movie Info
D.H. Lawrence's tragic fable The Rocking Horse Winner is faithfully transferred to the screen in this 1950 gem. John Howard Davies, the young star of Oliver Twist (and the future chief film editor at the BBC) plays sensitive lad Paul Grahame, whose selfish, grasping mother (Valerie Hobson) warps his values. When his mom once more whines over her lack of wealth, the boy retreats to his new Christmas present, a hobby horse. Having been taught to ride like a real jockey by kindly handyman Bassett (John Mills), Paul furiously bobs up and down on his horse, hoping to drive his mother's words out of his brain. Instead, Paul suddenly acquires the ability to pick the names of winning race horses. Capitalizing on her son's "gift," Paul's mother becomes fabulously wealthy, only to spend the money as quickly as it comes in. Thinking only of his mother's happiness, Paul continues to ride his magical horse, which results in more lucrative racetrack predictions. Before his mother can come to her senses, the boy takes one "ride" too many, dropping dead from the exhaustion. Though essentially a dark fantasy, The Rocking Horse Winner is rendered with utter credibility by writer/director Anthony Pelissier.
Critic Reviews for The Rocking Horse Winner
All Critics (6) | Fresh (5) | Rotten (1) | DVD (3)
Odd, disturbing version of the Lawrence short story doesn't compromise its source.
January 29, 2004 | Rating: 4/5
DVD is a treatise on the famed D.H. Lawrence short story.
January 20, 2003 | Rating: A-
Pelissier's bold expressionistic cinematography during the [rocking horse] sequences taps into the nightmare logic of a child's dreams, spinning into delirium.
Audience Reviews for The Rocking Horse Winner
A young English boy discovers that he can help erase his mother's enormous financial debt by predicting winners at the race track. Its never really quite clear whether the young man's psychic ability to predict horse races comes from spirits within his home, his scary-faced rocking horse, or somewhere within his own mind. Regardless of it's origin, his "gift" proves to be no match for his mother's enormous greed.
Randy Tippy
Super Reviewer
a fine british adaptation of the creepy dh lawrence story about a boy who desperately rides his rocking horse in order to predict race winners to please his money obsessed mother
Stella Dallas
Super Reviewer
The Rocking Horse Winner Quotes
There are no approved quotes yet for this movie.