Sands of Oblivion
(2007)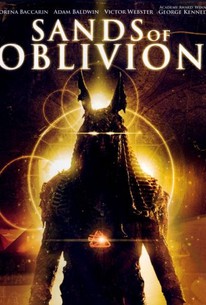 AUDIENCE SCORE
Critic Consensus: No consensus yet.
Movie Info
In 1923, after acclaimed director Cecil B. de Mille completed the first version of his Biblical epic The Ten Commandments, an odd event occurred that generated a wealth of speculation and mystery: de Mille - having shot on multi-million dollar sets to rival nearly anything in prior movie history - promptly traveled to the sand dunes on the California coast and buried his sets there. For nearly a century, the reasons belying this odd series of actions remained clouded in obscurity. Now, with his documentary Sands of Oblivion, filmmaker David Flores finally uncovers the truth: De Mille, it seems, acquired the majority of artifacts for the film on actual Middle Eastern burial grounds. The items included an odd prayer bowl, allegedly cursed with the spirit of Im-La-Ra - the god of chaos and fear. Certainly few other explanations could account for the devastating experiences had by the workers on the film crew - experiences that included devastating maniacal visions, sudden insanity and loss of control that led to murder. With Sands of Oblivion, Flores travels to the site of the initial burial and excavates the items once again, with a team of archaeologists, to investigate the truth behind these legendary events.
Critic Reviews for Sands of Oblivion
There are no critic reviews yet for Sands of Oblivion. Keep checking Rotten Tomatoes for updates!
Audience Reviews for Sands of Oblivion
½
A not really very good, made for the Sci-Fi channel adventure/horror film in the vein of The Mummy. Perfectly entertaining though, and for what it is watchable. A little surprised that nobody can seem to say anything at all positive about this one. Yes the effects are laughable, yes it isn't very original, yes most of the acting is pretty average, but this wasn't made for the big screen. It was always intended to be a TV movie and I think people have been a little too hard on this. This was created to be something you'd watch when nothing else is on, and at that it succeeds I think. At least incidentally. Yeah, all criticisms are valid, I'd still say I enjoyed this quite a bit more than the Transformers movie, or any of the at least equally shitty if not worse big budget Hollywood extravaganzas to be spewed forth in recent years. Not great, but at least average. Watch it if theres nothing else on.
Ed Fucking Harris
Super Reviewer
This is another "Sci-Fi Original movie" as they are so called. Every so often the Sci-Fi channel gets a small budget and creates a straight to Sci-Fi channel movie for us sci-fi lovers. As many of you have probably noticed, these movies are nothing to brag about. They are filled with cheap special effects and relatively unknown actors most of the time. But, every so often one of these movies turns into a hidden treasure, if I may call it that. Dog Soldiers immediately comes to mind from the past few years. I was really wishing that this movie would be a another hidden treasure. Unfortunately, my wish didn't come true.
The story as a whole isn't too bad and it starts out pretty good. It kind of felt like The Mummy. The movie actually goes into some nice depth to explain what is going on. It's just too bad it stops at about half way through. The sci-fi aspect of the movie turns into an action movie for the second half. You have guns, a rocket launcher, and a dune buggy chase, which is pretty long. It really felt like the story was on a tangent of some sort.
As far as the acting goes it is better than you would expect for a movie of this caliber. You have recognizable faces like Morena Baccarin and Adam Baldwin as the major characters. It was nice to see a small role for Dan Castellaneta who ended up playing a director. A perfect fit for him. I also enjoyed the role of Buford played by Charles Lister.
The CG is exactly what you'd expect from this film. Cheap and fake looking. Although, there was a part when the murals on the wall came to life which ended up looking pretty neat. One positive thing that this movie did was to make the Egyptian werewolf looking God physical and not digital. This was the same thing that Dog Soldiers did with their dog soldiers. They used real puppetry instead of using cheap CG effects, which in both of these cases was a good idea.
When it all comes down to it this felt like a really cheap version of The Mummy that takes place in California. If you're a fan of Morena Baccarin, like I am, or Adam Baldwin, then feel free to give this a watch. Everybody else should be satisfied with The Mummy.
Sands of Oblivion Quotes
There are no approved quotes yet for this movie.