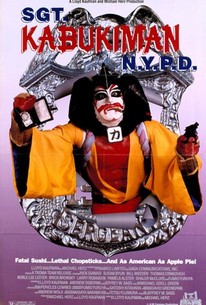 Sgt. Kabukiman, N.Y.P.D.
1991, Comedy, 1h 35m
3 Reviews
1,000+ Ratings
Rate And Review
Sgt. Kabukiman, N.Y.P.D. Photos
Movie Info
The spirit of a slain Japanese superhero enters the body of a New York policeman (Rick Gianasi) who is not quite up to it.
Audience Reviews for Sgt. Kabukiman, N.Y.P.D.
"Sgt. Kabukiman N.Y.P.D." has all the hallmarks of a Troma film: campy acting, nudity, gleeful violence, an absurd concept and the fact that it looks like it was written, shot and edited together in a matter of a few weeks. Most of what happens is so far-fetched and idiotic that a portion of the film's overall badness can be overlooked if in the right mood, but not forgiven. What you basically have is a pretty ugly-looking load of nonsense that's chaotic, gross, inane and about as technically adept as your average family home video. It isn't terribly hard to endure, but that's about the only good thing that I have to say about it.

Sgt. Kabukiman NYPD is one of my favourite Troma movies. In fact, it's one of my favourite cult movies - full stop. Lloyd Kaufman and Michael Herz really hit a home run with this opus. Rarely have either of these great men been responsible for something so lovingly crafted or effortlessly winning. In my opinion, Sgt. Kabukiman NYPD proves once and for all that Kaufman and Herz are highly skilled filmmakers, not the hacks they promote themselves to be. These men should be feted at film festivals around the world as film gods instead of being reduced to approaching perverts in public toilets for funding. This film is extremely accomplished. The direction is stylish, the pacing is brisk and the action sequences are well staged. Moreover, the film is startlingly original, seamlessly blending action, fantasy, horror, comedy and kabuki. The quality that sets Sgt. Kabukiman NYPD apart from many Troma films for me is its sense of whimsy and good natured humour. This is possibly the funniest movie Kaufman and Herz have ever made. Much of this is due to Rick Gianasi. Gianasi is by no means a great actor, but his charismatic yet clueless persona is perfect for the role of Harry/Kabukiman. Harry's transformation into Kabukiman and his encounters with Reginald's henchmen are hilarious and visually impressive. It takes a unique mind to come up with death by chopsticks and sushi paper. The special effects are great, with the emphasis being placed more on humour than gore. The scene in which Kabukiman is flattened by a truck never ceases to make me laugh. Kaufman and Herz not only created a great hero in Kabukiman, but also an excellent sidekick in Lotus. Susan Byun plays the role with a po-faced sincerity that is hysterical. I also found the romance between Kabukiman and Lotus strangely endearing. Forget those losers balancing on the end of the boat in "Titanic", the most romantic moment in cinema history is Kabukiman flying over New York City with Lotus on his back (that is before he gets airsick and hurls). The flying scenes deserve a special mention, this is the kind of B-grade special effect that got me hooked on cult movies for life. Sgt. Kabukiman NYPD is a very special film, which I would recommend to anyone. Cult movies have rarely been so original, entertaining and lacking in pretension. It is surely time for Lloyd to start pimping out Mr Herz in order to raise funds for the sequel.

Some parts are very funny, but it runs too long.

Sgt. Kabukiman.. I had totally forgotten about this :) It's everything you can expect from a Troma-film.
See Details