The Sum of All Fears
(2002)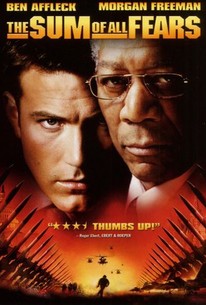 The Sum of All Fears Photos
Movie Info
When the president of Russia suddenly dies and is succeeded by a man about whom little is known, tension increases as old fears ignite new paranoia. Director of Central Intelligence Bill Cabot recruits a young analyst from the Russia desk, Jack Ryan, to supply insight and advice. Then the unthinkable happens: the capital of Chechnya is leveled by a nuclear bomb. America is quick to blame the Russians, and mistrust escalates despite Ryan's certainty that other players are at work. He is right. Terrorists bent on provoking open war between the two nations are moving behind the scenes to manufacture and escalate a conflict. When they successfully detonate a second bomb outside Baltimore during the Super Bowl, the world is pushed inexorably towards war... unless Ryan can supply the needed proof to stem the tide of disaster in time.
People Who Like this movie also like
News & Interviews for The Sum of All Fears
Critic Reviews for The Sum of All Fears
Audience Reviews for The Sum of All Fears
The Jack Ryan books by Tom Clancy have been very popular among readers of techno thrillers, and I've read plenty of Clancy's books. They are well written, complex, engaging and thrilling, action packed and memorable. There has been three fil.ms based on Clancy's work featuring Jack Ryan and each were better than the last one. With that being Sid, The Sum of all Fears is a good effort, much better than my first initial viewing, but the biggest problem with the film is that Affleck was cast in the lead role of Ryan, and this was made when Affleck's career was pretty sketchy. Here, he's good, but I felt he wasn't quite right for the part, and that a better choice should have been made in picking an actor who could have made a significant impact in the role of Tom Clancy's iconic character. With that being said, at least the cast aside from Affleck is strong, and the story is quite good, and the film is an action thrill ride. However compared to other films featuring Jack Ryan such Clear and Present Danger and Patriot Games, The Sum of all Fears lacks a bit and isn't as good as previous Jack Ryan efforts. Nonetheless, I preferred this film much more with a second viewing, and it's one of those films that you need to really view a second time to let it grow on you. Affleck may be miscast, but he does manage to give a worthy performance, and considering that this was made when he was getting critically vilified by bad films like Daredevil and Gigli, this is one of his better films of this period in his acting career. In a way, it does a side to him that he would solidify years later acting in his films The Town and Argo. With a good script, tense, pulse pounding moments and terrific action, The Sum of All Fears is a good action Thriller that is worth seeing if you're a fan of Clancy's work, or you enjoyed the previous films featuring Jack Ryan. Not a perfect film, but this is one that like I said, is much better with a second viewing.
27,000 Nuclear Weapons. One Is Missing. Saw it again! Good Film! Sum of All Fears is an enjoyable thriller and the type of movie the Hollywood studios have always been good at making. It's slick, expensive-looking, well-acted and two hours of far-fetched fun. Ben Affleck plays CIA Agent and superman Jack Ryan PhD. Ryan is a former marine, linguist and all-round polymath who saves the world from impending disaster. Affleck is youthful and convincing as Ryan and makes him seem fallible and likable. Ryan becomes a confidant of the wise and sensible CIA Director Bill Cabot (Morgan Freeman) and acquires a beautiful and successful girlfriend (Bridget Moynahan) who believes he's a historian. The plot is complicated and involves a new Russian leader (Ciaran Hands) who spouts anti-U.S. rhetoric. A Russian chemical attack on Chechnya increases the tension between the two countries. An Israeli atomic bomb is found in the Egyption desert,a relic of the 1973 Arab-Israeli conflict. Neo-Nazi terrorists (led by Alan Bates) want to provoke a nuclear conflict between America and Russia. They acquire the bomb from a South African arms dealer and explode it in Baltimore. The U.S. blames the Russians and the two countries are about to commence all-out nuclear war until Ryan works out what is happening and it all ends happily. The message is that the new Russian leaders are reasonable men signifying that the world has moved on from the Commie bashing flicks of the 1980s. The idea of a terrorist nuclear attack is topical, but unfortunately the Neo-Nazi villains seem very 1970s. The film has good character actors in supporting roles (e.g., Liev Schrieber, James Cromwell). I much prefer Afflek's Ryan to that of the 52 year-old Harrison Ford who by 1994's Clear and Present Danger seemed too old and surly for the role. Go see it! When the president of Russia suddenly dies, a man whose politics are virtually unknown succeeds him. The change in political leaders sparks paranoia among American CIA officials, so CIA director Bill Cabot recruits a young analyst to supply insight and advice on the situation. Then the unthinkable happens: a nuclear bomb explodes in a U.S. city, and America is quick to blame the Russians.
A conspiracy to ignite total war between Russia and America is met by a new screen Jack Ryan played by Ben Affleck in an attempt to invest new life into the popular series. The effect is not bad, not bad at all. The idea underlying the whole film is the real draw though, shot before 9/11, about how do we, the world, respond to the aggressive acts of a radical minority. Worth a look.
Kevin M. Williams
Super Reviewer
The Sum of All Fears Quotes
| | |
| --- | --- |
| John Clark: | My favorite line? Clark's order: "Shoot him, Ryan! Shoot him!!" |
| John Clark: | Shoot him, Ryan! Shoot him! |