Sympathy for Delicious
(2011)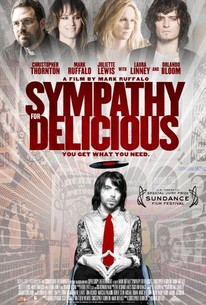 Sympathy for Delicious Photos
Movie Info
SYMPATHY FOR DELICIOUS marks acclaimed actor Mark Ruffalo's first foray into directing. This inspired and unusual film tells the story of Dean O'Dwyer (Christopher Thornton), also known as "Delicious D," an up-and-coming DJ on the underground music scene in Los Angeles. When a motorcycle accident leaves Dean paralyzed, he abandons his turntables for a wheelchair as his once promising career disappears before his eyes. Forced to live out of his car on skid row, Dean begins his descent into depression when he meets Father Joe Roselli (Mark Ruffalo), a passionate young priest. Father Joe introduces Dean to the world of faith-healing, an unlikely way for him to begin his quest to walk again. He soon discovers that he possesses the otherworldly power to heal people, but in an odd twist of fate, he is utterly unable to heal himself. Despite Father Joe's warnings, Dean angrily decides to use his newfound gift for fame and fortune. He joins a rock band led by charismatic front man The Stain (Orlando Bloom) with bassist Ariel (Juliette Lewis), and manager Nina Hogue (Laura Linney). But his newfound notoriety is unable to cure the hurt that encompasses his life. To find true healing, Dean must ultimately confront his worst demons and come to terms with his own humanity. SYMPATHY FOR DELICIOUS is an edgy rock-and-roll spiritual journey that explores the lasting effects of tragedy, the search for meaning, and the ultimate redemptive power of compassion. -- (C) Maya Releasing
News & Interviews for Sympathy for Delicious
Critic Reviews for Sympathy for Delicious
Audience Reviews for Sympathy for Delicious
½
In "Sympathy for Delicious," Dean(Christopher Thornton, who also wrote), a paraplegic, is disappointed at the lack of results when he is dragged to see a preacher(John Carroll Lynch) by his friend Rene(Noah Emmerich). Dean gets more tangible results from Father Joe(Mark Ruffalo, who directed), a more down to earth man of god, who wants Dean to move out of his car and into an assisted living facility but Dean is holding out for an SRO. On a professional level, Ariel(Juliette Lewis) likes Dean's DJ work so much that she invites him into her band, over the objections of their manager Nina(Laura Linney) who has apparently never heard punk rock before. And that's when news of Dean's healing ability starts to leak out. Mark Ruffalo is definitely one of the best actors around right now but sadly with his first directorial effort "Sympathy for Delicious," does not show the same level of aptitude, with a fondness for stunt casting and cliched shots of the Los Angeles River. To be fair, I do not think the most experienced of directors would have had much luck with this very uneasy mix of magic realism and rock and roll. So as much as I appreciate any effort to explore the plight of the homeless, wading into Ken Russell's old territory of music gods should never be for the faint of heart.
Ruffalo's directorial debut was so so. The film reminded me of the film, The Touch with Skeet Ulrich and Christopher Walken, however, I thought that film was better. Ruffalo had a good idea for a film but didn't execute it correctly I thought Christopher Thornton was miscast in the lead role. Ruffalo should have gone with another actor like Sam Rockwell for that role. All of the other actors in this ensemble did a good job. I hope Ruffalo's next film that he directs, will be better.
½
Am I rooting for the underdogs these days? I was mesmerized by this movie, yet others seemed to not like it.....Great cast. Captivating. Raw, without being cheap. This is a story largely revolving around religion and music, but mostly having to do with personal struggles, and ethics. Well done film, with a very satisfying ending. Personally, I think that Mark Ruffalo has a promising career as a director.
Cynthia S.
Super Reviewer
Sympathy for Delicious Quotes
| | |
| --- | --- |
| Father Joe: | Your down here living in a car when you don't have to be. |
| Father Joe: | You're down here living in a car when you don't have to be. |
| | |
| --- | --- |
| Father Joe: | All I know is that you abandoned those to people when they needed you. |