That Obscure Object of Desire
(1977)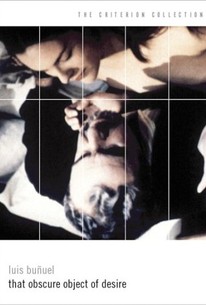 That Obscure Object of Desire Photos
Movie Info
Adapted from Pierre Louys' 1898 novel La Femme et le Pantin, That Obscure Object of Desire is the 30th and final film from the great Luis Buñuel. Recounted in flashback to a group of railway travellers, the story wryly details the romantic perils of Mathieu (Buñuel favorite Fernando Rey), a wealthy, middle-aged French sophisticate who falls desperately in love with his 19-year-old former chambermaid Conchita. Thus begins a surreal game of sexual cat-and-mouse, with Mathieu obsessively attempting to win the girl's affections as she manipulates his carnal desires, each vying to gain absolute control of the other. Brimming with the subversive wit which characterizes all of Buñuel's finest work, That Obscure Object of Desire takes satiric aim at a decadent, decaying society riddled by political unrest and moral bankruptcy. The picture is absurdist even in its casting -- Rey's dialogue was dubbed by the French actor Michel Piccoli, while the two-faced, hot-and-cold Conchita is played, logically enough, by two different actresses (Carole Bouquet and Angela Molina, respectively), with the character's dialogue spoken by yet a third performer. The same Louys novel was also filmed by Josef von Sternberg in 1935 as the Marlene Dietrich vehicle The Devil Is a Woman, and again in 1959 as Julien Duvivier's La Femme et le Pantin, starring Brigitte Bardot. ~ Jason Ankeny, Rovi
People Who Like this movie also like
Critic Reviews for That Obscure Object of Desire
Audience Reviews for That Obscure Object of Desire
½
A rich old man (Fernando Rey) courts 18-year old Conchita (who, with no explanation, is played by two different actresses) over the years, but she seems to be toying with him, and he never achieves the object of his desire. In Bunuel's previous THE DISCREET CHARM OF THE BOURGEOISIE (1972) the attendees at a dinner party could never eat because of continual interruptions; in this droll comedy, Rey can never... you know.
'what do I have to do? what do I have to do...to prove my love to you'
Stefanie C
Super Reviewer
Now this is a lot of fun. Luis Bunuel's final film, "That Obscure Object of Desire" charts the relevant yet rocky terrain of passion vs. obsession and love vs. absurdity. Bunuel does some really intriguing things with casting, cross cutting stories and the actors have fun with their wacky and juxtapositional dialogue. I love movies about 'emotional terrorism' and this is one of the earlier films to probe the theme. It's funny, timely (even though it was released in 1977) and intriguing.
Steven Carrier
Super Reviewer
That Obscure Object of Desire Quotes
There are no approved quotes yet for this movie.
Discussion Forum
Discuss That Obscure Object of Desire on our Movie forum!