The Edge of the World
(1937)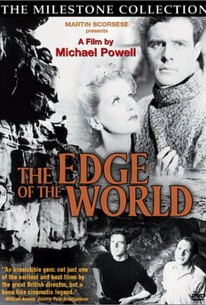 Movie Info
What happens when the people of a lonely, windswept island can no longer survive as a community ? This Drama/Documentary examines the hardships of such a life and the decisions they must make, whether to stay where their families have worked & died to establish this hard-working community or to leave and give the next generation a better chance. Partly based on a true story (The evacuation of "Hirta" or "St. Kilda").
Critic Reviews for The Edge of the World
Audience Reviews for The Edge of the World
Residents of a small Scottish isle come to terms with the fact that their way of life has come to an end. The seas nearby can no longer provide enough fish to make a living, and their land, having been depleted and eroded, can no longer produce the crops they need to survive. Some very touching moments here but I found that the most interesting parts were the shots of actual Scotsmen going about their daily routines. The film is almost as documentary as it is dramatic. Fascinating to see the way islanders collected shed wool from the sheep or the way they got mail to the mainland by sealing letters in small toy boats and casting them into the sea, hoping that fishing vessels would pick them up and post them. There is as much here for history enthusiasts as there is for movie buffs.
Randy Tippy
Super Reviewer
½
Mike Powell's 1st real film and a good first effort. I liked the idea of the story more than the execution.The location is amazing and i would like to see this subject tackeled in a doc. or a remake by Malick.
cody franklin
Super Reviewer
The Edge of the World Quotes
There are no approved quotes yet for this movie.