The Hot Flashes
(2013)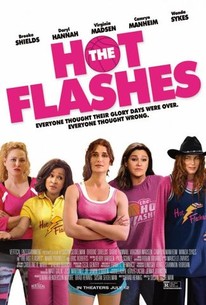 The Hot Flashes Videos
The Hot Flashes Photos
Movie Info
The Hot Flashes is about a basketball team of unappreciated middle-aged Texas women, all former high school champs, who challenge the current high school girls' state champs to raise money for breast cancer prevention. Sparks fly as the women go to comic extremes to prove themselves on and off the court, become a national media sensation, and gain a new lease on life. (C) Official Site
Rating:
R (for some sexual content and drug use)
Genre:
Directed By:
Written By:
In Theaters:
On DVD:
Runtime:
Studio:
Cast
News & Interviews for The Hot Flashes
Critic Reviews for The Hot Flashes
Audience Reviews for The Hot Flashes
would have enjoyed it more if the stereo-type heavy underdogs had more of a script for character and plot development. yes it's a basic plot underdog story. a formula many films use. but when the writers just put the whole story on autopilot don't rely on great acting and Schick by a few high caliber performers to carry the film's story. is it entertaining? yes to some extent but this would make even a lifetime movie look theatre worthy.
Mark Valenzuela
This is one of those "someone wrote this?" kind of movies. Someone decided to fund this movie? These stars read the script and wanted to be in this movie? The Hot Flashes might mean well but it isn't a good or well-made movie. Brooke Shields stars as a 40-something former high school basketball star who has botched the paperwork for her late friend's non-profit traveling mammogram-mobile which has caused the health service to cease to be. Horrified at what she has done, she recruits a batch of old friends to play basketball against the Texas high school basketball state champions to raise money for charity. The film is poorly written and it is full of clichéd characters and awful stereotypes -- the self-righteous hypocritical Bible thumper, the lesbian, the town tramp etc. These are all stock characters in generic situations. As bad as the film is, one cannot help but root for this group of one-time winners because they are good people wanting to do something good for others. It sounds awful, but this film is a benign lump -- it isn't good but it could have been much worse.
Thomas Williams
Everyone thought their glory days were over. Everyone thought wrong. Good movie! I did find some of it funny but again the jokes weren't really for me. The message of this movie is inspiring and does leave you feeling good even though the movie is very predictable. The one thing I can say about this is that it would have been very good as a Lifetime movie instead of a direct-to-DVD movie. Overall, better then I expected but I think if you are the audience this is going for you will really like it. An unlikely basketball team of unappreciated middle-aged Texas women, all former high school champs, challenge the current arrogant high school girls' state champs to a series of games to raise money for breast cancer prevention. Sparks fly as these marginalized women go to comic extremes to prove themselves on and off the court, and become a national media sensation.
Discussion Forum
Discuss The Hot Flashes on our Movie forum!
News & Features