The Idiots (Idioterne) (Dogma 95)
(2000)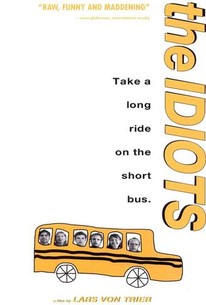 Movie Info
This Danish comedy-drama is about some Copenhagen eccentrics who find therapeutic release in acting like idiots. Restaurant patrons are disturbed by the group's mischief, but Karen finds it intriguing. Eventually the group decides to let idiocy invade their daily lives, but only Karen will take that challenge.
News & Interviews for The Idiots (Idioterne) (Dogma 95)
Critic Reviews for The Idiots (Idioterne) (Dogma 95)
Audience Reviews for The Idiots (Idioterne) (Dogma 95)
Wonderful on many levels - as an (aborted) excursion into a new film form, and the bizarre attention that it brought to the progenitor who immediately abandoned it; as a source of perverse entertainment turned desperate tragedy; as a look into metafilm and levels of reality. It doesn't seem like there's a lot going on in The Idiots, but between its guiltless waltzing from genre to genre, the clashing ideologies of both the characters and the story itself, and the greater ramifications of being a Dogme 95 film and what it's implicitly saying about its cast and director, there's some serious thought behind that ugly exterior. This will not be an easy watch for many understandable reasons, and I think it's fair to call it offensive, obnoxious or even incomplete. I just think it's fascinating. I enjoyed watching the film with the Dogme Vow of Chastity in mind and wondering what limitations that imposed on von Trier and his crew. The performances he draws from his cast, unhesitantly authentic, are also enthralling when placed in a documentary context. Tensions were high between von Trier and his players, and there's a palpable parallel between how the "spassers" disintegrate and how his own harmonious set begins to fall apart. In fact, there's a very thorough and elaborate byline on which the events of this film, Dogme 95, and the work of Von Trier all operate, with thinly constructed notions of "reality" where other layers of their respective worlds can't help but leak in. Maybe the film's success as a conventional narrative in the medium is arguable, but I think it's an excellent auteurial curio and an exceptional think piece. It's also sort of hilarious in a way that becomes very dark with a gut-punch of an ending. As with just about all of von Trier's work - not for everyone, but worth at least giving a shot.
Drew Smith
Super Reviewer
½
Astounding, brave, funny and touching cult film. I find it hard to understand how so much has been said about the "lack" of production values or the nudity in this movie, which to me aren't even worth mentioning, but hardly anyone comments about how astounding the ACTING is! The actors in this, and in Lars Von Triers' previous Breaking The Waves, display completely realistic acting very rarely (if ever!) seen in Hollywood. But if you want a funny, dirty, smart, irritating, and even infuriating satire of both the bourgeoisie and the bohemians who oppose it, then The Idiots is for you. Von Trier has assembled a furiously talented cast of unknowns to spin this tale of a Danish commune that pretends - to the horror of the middle class masses that surround it - to be a private institution for "retards" and "spastics".
Dean McKenna
Super Reviewer
Ok, Vinterberg's Festen was a great start to Dogme 95 but Lars von Trier's Idioterne as the second Dogme 95 film is a huge disappointment, Pretentious & dumb to the core
The Idiots (Idioterne) (Dogma 95) Quotes
There are no approved quotes yet for this movie.