The Out-of-Towners
(1999)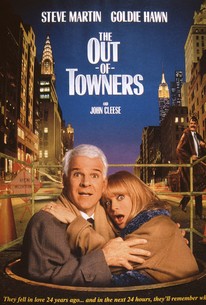 The Out-of-Towners Photos
Movie Info
When Frank Sinatra sang "If I can make it there, I'll make it anywhere, it's up to you, New York!" he probably didn't have the same odds in mind that line up against Henry and Nancy Clark in The Out-Of-Towners. Henry (Steve Martin) is an advertising man from Ohio who runs his life on an exacting schedule. His wife Nancy (Goldie Hawn) feels the spark has gone out of their lives together. After 24 years of marriage, their children are grown and nothing is tying them to their old home, so they decide to take a stab at relocating to New York City. Henry arranges a job interview in the Big Apple, they schedule a flight into Manhattan, and from that point on, anything that can go wrong does go wrong. Henry and Nancy's flight is delayed, their luggage is lost, their hotel reservations are cancelled, they're accosted by muggers, the cab they're riding in gets in a wreck, Henry is accidentally drugged and Nancy ends up in a group therapy meeting for sex addicts. The Out-Of-Towners is an updated remake of the 1970 comedy scripted by Neil Simon; the original version starred Jack Lemmon and Sandy Dennis as the hapless Midwesterners.
People Who Like this movie also like
Critic Reviews for The Out-of-Towners
Audience Reviews for The Out-of-Towners
½
One of Steve Martins better films, which doesn't say much.
My two favourite comic actors team up again. Their son has just left home, so they head to New York for a break, but get into all sorts of trouble,
Candy Rose
Super Reviewer
Fairly fun, but nothing special.
The Out-of-Towners Quotes
There are no approved quotes yet for this movie.