The Tale of Zatoichi
(1962)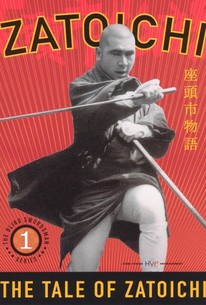 Movie Info
This Japanese adventure is the first in what would become a long series of films chronicling the many adventures of Zatoichi, the blind gambler and former samurai, who travels the islands of Japan to play dice games, give massages, and right any wrongs he runs across. In this outing, he finds himself trying to stop a terrible gang war in the Shimosa prefecture.
News & Interviews for The Tale of Zatoichi
Critic Reviews for The Tale of Zatoichi
Audience Reviews for The Tale of Zatoichi
While "The Tale of Zatoichi" went on to inspire and give life to a long series of films that sum up Zatoichi and his life and adventures, the film was a little slow at times as it had to develop and showcase the Zatoichi character to viewers for the first time. This isn't to say the film isn't worth a watch and has several truly exciting and stylish moments to witness throughout, quite the contrare. I love samurai films and while this isn't at the top of the group, it is nevertheless a good film and very prevalent to Japan as it's become almost like the Japanese James Bond franchise. If you're into samurai films then this is a series of films worth checking out and delving into as the 26 films (25 of which are together for the first time on Criterion's spectacular Zatoichi: The Blind Swordsman Blu-ray boxset) tell one complete story of the legendary character. Of course there is the televesion series as well to take note of and should be viewed before watching the 26th and final film. Can't wait to continue onwards!
Chris Browning
Super Reviewer
http://www.hulu.com/search?query=zatoichi&st=0 criterion has made 6 zatoichi films available on hulu! sorry, people who don't live in u.s. :(
Stella Dallas
Super Reviewer
Quite simply put, this is a perfect movie. The Tale of Zatoichi is the first in a long line of films, detailing the adventures of a blind swordsman. The film begins with Zatoichi using his cunning and his "disability" to his advantage, as he outwits some gamblers. Soon, Zatoichi is hired as a "weapon" for a gang that wishes to wage war on another gang. This other gang also have their own samurai, whom is dealing with his own affliction. The film removes the focus from an all out war and delves into the relationship between the two swordsmen. Both respect each other and have allegiances to their honour and themselves, rather than those that have hired them. The respect they show is very moving, as they bond over fishing nd drinks, and the film eventually culminates in one of the finest climaxes of all time. The fight is not ruined by quick cuts or melodramatic music. Nor is it over-the-top or unbelievable. It still manages to be both gripping, exciting and beautifully moving, proving that you don't need cheap parlor tricks to manipulate an audience. The performances are wonderful and the pacing divine. It literally whips by. It gives you a chance to breath and offers up a bit of a love story, but instead of relying on such a predictable crutch, the character of Zatoichi brushes it aside and the film retains focus on the true story at heart.
Luke Baldock
Super Reviewer
The Tale of Zatoichi Quotes
There are no approved quotes yet for this movie.