The Taste of Money
(2013)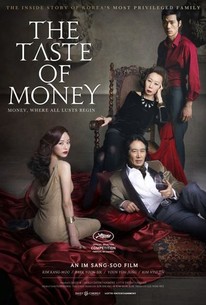 The Taste of Money Photos
Movie Info
In a mansion on the outskirts of Seoul lives one of South Korea's richest families. Although nominally headed by a prominent businessman, it's his wife Madame Baek who's really in control. Her personal secretary, a handsome young man newly introduced to the world of power, deals with the family's immoral-and frequently illegal-activities while he waits for his own opportunity to make it rich. But everything changes when an affair upsets the household's balance of power, and an unexpected arrest threatens to expose the family's tawdriest secrets. (c) IFC
News & Interviews for The Taste of Money
Critic Reviews for The Taste of Money
Audience Reviews for The Taste of Money
Visually impressive but thematically hollow.  This film didn't do much for me as it was an absolute chore to sit through for most of its running time.  Personally, the story and the character development did absolutely nothing for me.  It's like a South Korean version of Dallas.  Rich people doing deplorable things to other, less fortunate people and each other without facing any of the consequences.  This might sound interesting to some people and, in theory, it probably came across like that.  Execution, though, is another thing entirely.  It just leaves a lot to be desired, there's no real character progression.  I understand Young-jak has a character arc but it's pretty uninteresting.  At first he's tempted by the money and power, then he realizes the corruption that goes along with that and decides he no longer wants a part of it.  That's as much effort as there was put into any.  Oh and the patriarch of the family actually did have the most interesting stuff going on, considering he wants to leave the family in search of the happiness he hasn't in all the years he's been married, but his wife, the head of the family, does not allow him to.  Easily much more interesting than the main character's arc Other than that there's not much going on here.  That's not to mention the tonal shifts that drag the movie down. Sometimes the film has a darkly comic tone, but other times it is completely humorless, almost ridiculously so. Like the scene at the airplane near the end feels like right out of a romantic comedy. Particularly considering the fact that that scene was followed by an incredibly serious moment. This movie clearly does not know what it wants to be. Solid acting and beautiful cinematography don't mean shit when your film is that lacking. I wouldn't recommend this at all, unless you're interested in it visually and technically, other than that, this movie doesn't offer anything.
Jesse Ortega
Super Reviewer
The Taste of Money Quotes
There are no approved quotes yet for this movie.