Things to Do
(2006)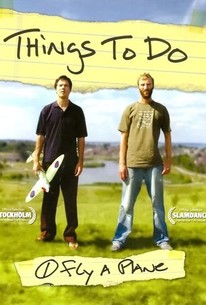 Movie Info
A twenty-five year old office drone heads back to his hometown and reconnects with a carefree childhood friend in director Theodore Bezaire's existential comedy drama. Adam Stevenson (Mike Stasko) works a mundane job in a mundane office. Crushed by the overwhelming mediocrity of his uneventful life, Adam one day decides to simply pack up his belongings and return to his childhood home. Though Adam's baby boomer parents are casually indifferent to their son's return, hometown clown Mac welcomes his old buddy back with open arms and a mischievous grin. While Adam was toiling away in the office, eccentric Mac has been living it up back home and enjoying life to the fullest. It turns out a little spontaneity can go a long way in helping one maintain their happiness, and as Adam and Mac begin making a list of "things to do" that they had been dreaming about for years it all begins to come together for the aimless young slacker.
Critic Reviews for Things to Do
Audience Reviews for Things to Do
This was a film that was trying too hard to be that quirky indie film - much of the humor fell flat as well.
Sarah Prisbylla
Super Reviewer
½
It starts out pretty stupidly. Kind of early at 24 to have a list of "Things to do", but among the things these two do is skydive, hold a prom, collect balls off the school roof, etc. -- all in the search of the meaning of their lives.
Things to Do Quotes
There are no approved quotes yet for this movie.