Tillie's Punctured Romance
(1914)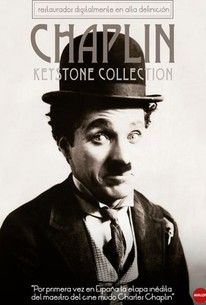 Tillie's Punctured Romance Photos
Movie Info
This Keystone comedy, Charlie Chaplin's 33rd, is the first feature-length comedy ever made and contributed to making Chaplin and his co-star Marie Dressler major stars. Chaplin plays a con artist (not the Tramp) who talks Tillie, an innocent country lass, into taking her father's savings and running off to the city with him. Once there, he re-establishes his affair with the beautiful Mabel Normand, abandoning Tillie, who must begin working at a restaurant, while Charlie and Mabel spend her father's money for new clothes. Meanwhile, Tillie's millionaire uncle is reported to have died in a mountain-climbing accident. When the opportunistic Charlie learns that Tillie has just inherited three million dollars, he immediately rushes over to propose. She joyfully accepts, but is suspicious when she learns of her inheritance. Later, at a wedding gala at Tillie's new mansion where Normand has begun working as a maid, Charlie sneaks off for a little tete-a-tete with the latter. Trouble erupts when Dressler catches them smooching. Suddenly all the slapstick craziness for which director Mack Sennett is famous erupts as Tillie grabs a pistol and begins chasing Charlie and Mabel, firing randomly. Just as the wayward Charlie is to be strangled to death, the "late" uncle suddenly appears and ejects all the celebrants. Charlie and Mabel, chased by Tillie, race out of the ruined mansion to a pier where they are followed by the ubiquitous Keystone Kops whom the uncle has summoned. Tillie ends up in the drink, and when rescued after numerous attempts, she rejects Charlie while consoling Mabel, saying, "He ain't no good to neither of us," as the Kops drag Charlie away.
Critic Reviews for Tillie's Punctured Romance
Audience Reviews for Tillie's Punctured Romance
This is an example of a movie that has historical significance, but whose content is so dated that it's tough to sit through. I'm not saying the movie's humor is lowbrow, but if you drank a shot every time someone was kicked in the butt or slapped in the face, you'd be drunk pretty quickly. Charlie Chaplin has an endearing way of moving his body, and his comedic antics are occasionally amusing even in the role of the 'bad guy', but I was much less enchanted by Marie Dressler. There's also not a lot to recommend in the plot, and it ends up feeling like silly slapstick drawn out to 82 minutes. D.W. Griffith had directed the highly controversial epic 'Birth of a Nation', and Mack Sennett was trying to match him by creating the first "feature length" comedy film - but long does not necessarily mean good.
Antonius Block
Super Reviewer
Chaplin has some of the mannerisms and clothes of The Tramp, but there are important differences. He's a money hungry scoundrel. He and partner Mabel Normand as "The Other Girl" are grifters. She's an early example of a mean girl. She calls Marie Dressler an elephant. Dressler is Tillie, a simple country girl with a rich uncle. Dressler's costumes are positively clownish. Chaplin's city rogue flirts with her shamelessly. She's a bit of a klutz and let's loose with her own dance style when she gets drunk for the first time. There's some good slapstick and occasionally the facial contortions in this Mack Sennett flick may make you chuckle, but overall the way it is shot and the plot is not first-rate.
Byron Brubaker
Super Reviewer
If you want to believe everything Charlie Chaplin touched turned to gold, please avoid this film. The only reason I'm even giving this *two* stars is that it was released so early (1914) that the horrible, flat-footed direction deserves some leniency. Still, facts are facts: director Sennett just plops a camera in front of the stage and records a whole scene. All wide shots, no close-ups. And thus, very little emotional connection with the characters. Chaplin's virtuosic pratfalls are the only memorable feature. Note: The uninitiated should be aware that he is not in his "Little Tramp" guise, and instead plays a shabby con-man out to marry for money. No cane, no derby hat.
Eric Broome
Super Reviewer
Tillie's Punctured Romance Quotes
There are no approved quotes yet for this movie.