Une partie de plaisir (Pleasure Party) (A Piece of Pleasure)
(1976)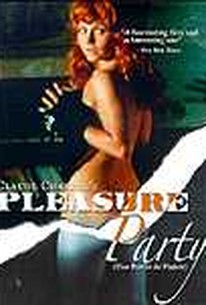 AUDIENCE SCORE
Critic Consensus: No consensus yet.
Une partie de plaisir (Pleasure Party) (A Piece of Pleasure) Photos
Movie Info
This uncomfortably voyeuristic Claude Chabrol effort was released in France as Une Partie De Plaisir. The story, which is little more than an elongated anecdote, details the destruction of a marriage at the hands of a domineering husband. To fully appreciate the perversity of Chabrol's concept, it should be noted that the leading character, Paul Gegauff, is playing "himself," and that Gegauff's ex-wife Danielle is costarred as his beleaguered partner. Even allowing for dramatic license, Gegauff comes off as a hateful brute; Curiously, he was murdered several years later by his second wife (Chabrol didn't get a chance to film that one). Interestingly, Chabrol had used the name "Paul" for many of the disruptive gadfly characters in his earlier films. Pleasure Party was also issued to some English-speaking markets as A Piece of Pleasure. ~ Hal Erickson, Rovi
Critic Reviews for Une partie de plaisir (Pleasure Party) (A Piece of Pleasure)
All Critics (4) | Top Critics (1) | Fresh (2) | Rotten (2)
This time, working with people he has known for a long time and telling their most intimate secrets, [Chabrol] sometimes seems to be simply watching along with the rest of us.

The interactions get pretty raw, and so is Chabrol's style markedly more raw than we are accustomed to ...
This film has both the look of a daytime TV soaper and a cheapie movie.
Audience Reviews for Une partie de plaisir (Pleasure Party) (A Piece of Pleasure)
½
A smug philanderer decides there's nothing wrong with his common-law marriage that a little more casual sex won't fix, instructing his docile partner to start sleeping around, too. However, when the initially reluctant partner takes to free love like a Scot to drink, the man - now frequently left in charge of his young daughter while the free-thinking monster he created is out doing who knows what with whom - struggles to control his libido-sapping jealousy. Although this synopsis may read like a comedy, "Une Partie de Plaisir" is actually quite a nasty little movie, difficult to watch in places. Scripted by and starring regular Chabrol collaborator Paul Gégauff, the film actively courts 'art-imitating-life' notoriety with the casting of Gégauff's ex-wife Danièle as his unfortunate partner, and the couple's daughter Clémence as their onscreen progeny. Despite the universal appeal of the theme, however one chooses to express it - the grass is always greener... you don't miss your water... if it ain't broke... etc - it is impossible to sympathise with Gégauff's character, even before he graduates to violence and self-pity, because his troubles are entirely of his own making. There's also something abhorrently narcissistic about his perpetual state of half-undress and his aimless noodling at the piano, just to show us how talented he is. The best bits are the few tender moments between Gégauff and his daughter, particularly the haunting closing scene. The climax is truly horrible; the delicious irony of Gégauff's violent death at the hand of his second wife (in 1983) will not be lost on anyone who watches this.
Une partie de plaisir (Pleasure Party) (A Piece of Pleasure) Quotes
There are no approved quotes yet for this movie.