Universal Soldier: Day of Reckoning
(2012)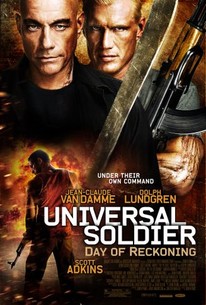 TOMATOMETER
AUDIENCE SCORE
Critic Consensus: The mooted final installment in the long-running series is a hyper-violent, often grim throwback to action movies of yore -- which will appeal to some audiences just as emphatically as it deters others.
Universal Soldier: Day of Reckoning Photos
Movie Info
John (Adkins) wakes up from a coma to discover his wife and daughter were slaughtered in a brutal home invasion. Haunted by images of the attack, he vows to kill the man responsible, Luc Deveraux (Van Damme). While John tries to piece his reality back together, things get more complicated when he is pursued by a relentless UniSol (Arlovski). As John gets closer to Deveraux and the rouge army of genetically enhanced warriors led by back-from-the-dead leader Andrew Scott (Lundgren), John discovers more about himself and begins to call into question everything he believed to be true. -- (C) Official Site
People Who Like this movie also like
News & Interviews for Universal Soldier: Day of Reckoning
Critic Reviews for Universal Soldier: Day of Reckoning
Audience Reviews for Universal Soldier: Day of Reckoning
A man watches as his family is killed, then dedicates his life to tracking down the killer despite having lost all memory of his past life. Surprising sequel plays more like an ultraviolent horror/suspense movie than the expected action flick. Longtime fans of the franchise may not like the change in tone but it's fairly entertaining as a standalone film.
½
Where does the latest entry in the Universal Soldier franchise stand? Usually by the fourth film in any series, ideas start to be less than original and filmmakers start to recycle ideas and make mediocre and awful outings that will surely displease fans. However with this fourth entry, the filmmakers have made the most violent film in the franchise, and this is a savage work of action that is among the best in the series. Forget what you saw with the other three films in the series; Day of Reckoning is a totally new, refreshing and very entertaining film in the series that is worth seeing if you're a fan of the Universal Soldier films. This is one of the more elaborate films in the series in terms of plot, and it seems that the screenwriters went all out to create some much more engaging for action fans. The mindless action is there, but there is also a much better plot as well. Acting wise, the performances are adequate, but could have been better. Universal Soldier Day of Reckoning feels like a revenge action flick, and is one of the better films in the genre. I really didn't expect much out of this film, and quite honestly it surprised, considering that this series was never excellent in the first place and that it is a straight to DVD film. Fans should definitely check this one out and it far better than other entries. I'm very surprised that they were able to pull the film since the first and considering that, it's saying something about the quality of the film, and in some areas, it exceeds in delivering in some areas where the original failed. A pretty good and impressive straight to DVD picture that provides a highly entertaining two hours.
decent enough but not really the usual Universal Soldier kind of movie
Stuart Brooks
Super Reviewer
Universal Soldier: Day of Reckoning Quotes