War Of The Dead
(2011)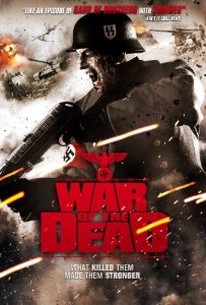 AUDIENCE SCORE
Critic Consensus: No consensus yet.
Movie Info
The war horror hybrid War of the Dead focuses on a platoon of American and Finnish soldiers who, after an ill-advised battle, soon find themselves on the run from soldiers they've already killed.
Critic Reviews for War Of The Dead
All Critics (3) | Fresh (0) | Rotten (3)
Plenty of bullets are fired. But, "War of the Dead" is really lacking the gore necessary for even an average zombie flick.
...the filmmakers try to tie the loose ends but do not always succeed, making the film feel hurried getting to its conclusion.
This is a zombie film with little to no gore. It's an in and out mission with no suspense or scares. "War of the Dead" is simply an exercise in filmmaking.
Audience Reviews for War Of The Dead
I prefer zombie movies where the zombies are walkers & HATE the movies where they're runners.I was hoping the zombies in War Of The Dead were going to be walkers but I guess I should've known.I know I probably would've been way more into the movie if they were.Hopefully someday, somebody will make a zombie war movie where they are.If it's been done recently I know nothing about it.Surprisingly though, it worked in War Of The Dead.I couldn't imagine the zombies being any other way.War Of The Dead was a non stop action/horror flick.Something was always happening here & there & the zombies being like they were, just added to it.I was into it right from the start till the very end.Still it's not something I'd ever watch again or want to add to my movie collection but if somebody was thinking about watching it I wouldn't tell them not to.If they were thinking about buying it, I'd tell them not to unless they got it super cheap or at least watched it 1st
Brody Manson
Super Reviewer
½
Shoot first, develop plot later.
vieras esine
Super Reviewer
War Of The Dead Quotes
There are no approved quotes yet for this movie.