Warlords (Tau ming chong)
(2010)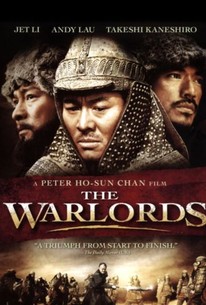 Warlords (Tau ming chong) Photos
Movie Info
Love, politics, and loyalty threaten to tear apart three soldiers in this lavish historical epic from Hong Kong. In 1870, the power of the corrupt Qing Dynasty has been threatened by the rise of a revolutionary army, led by religious fanatics, and civil war is tearing the nation apart. Pang Qingyun (Jet Li), a good man who finds himself fighting for the Qing leadership, is one of the only survivors of a bloody battle in between revolutionaries and Qing troops, and is looking for someplace to go when he's offered shelter by a beautiful peasant woman, Lian (Xu Jinglei). Pang and Lian spend the night in each others arms, and he finds himself falling in love with her. Pang sets out to make his way home when he's befriended by Zhao Erhu (Andy Lau) and Jiang Wuyang (Takeshi Kaneshiro), a pair of bandits. When Jiang is attacked in an ambush, Pang helps save his life, and the three men become blood brothers in a gory ritual. Pang convinces Jiang and Zhao to join him in the fight against the revolutionaries, and with their help Pang is able to achieve some impressive victories. However, when Pang allows his own ego and dreams of glory to override his common sense and loyalty, Zhao and Jiang come to distrust their ally, and matters become worse when it is revealed that Lian is Zhao's wife. Tou Ming Zhuang (aka The Warlords) was a major box-office success in China and Eastern Asia before making its way to theaters in Europe and the United States.
News & Interviews for Warlords (Tau ming chong)
Critic Reviews for Warlords (Tau ming chong)
Audience Reviews for Warlords (Tau ming chong)
A triumphant epic adventure in scope and in incredible battle sequences. A spectacular and exhilarating action-packed adventure. A fierce, brutal, tremendous and breathtaking movie. A wickedly well-crafted and designed piece of spic movie-making. It's thrilling, deeply moving and very powerful. Jet Li gives a strong and excellent performance, one of his best ever. Andy Lau is magnificent. Takeshi Kaneshiro is dazzling. These three stars give triumphant performances and work great with one another. An explosive and fearless action movie that delivers and it's totally unforgettable. A brilliant and extraordinary movie.
I've heard that Jet Li will no longer do historical-period movies. I've also heard a rumor that he may be retiring from the movie business altogether. This to me is very sad news and/or rumor all the way around. After all these years, it has become so apparent that he is finally growing into a first-class actor. Sure, he came in for the martial arts flash -- and after all these years, he can still deliver some pretty amazing physical work. But in addition to slogging through the kung fu grinder, he has also, wonderfully, grown into such a good actor along the way.
Even should he limit his work to less demanding physical material from now on, I truly hope he keeps up his acting career until he really can't manage it at all anymore.
Lanning : )
Super Reviewer
½
An extremely well done movie, the cinematography is like no other war epic. The story is powerful and one of the most emotional stories of brotherhood. Jet Li, Andy Lau and Takeshi Kaneshiro are great together. They all turn out wonderful performances that make the movie more than just an anti-war statement. The early battle scenes are beautifully done, as are the dramatic scenes that take place later on. It's an epic, but truly rooted within the characters rather than the war itself or even the politics.
Conner Rainwater
Super Reviewer
Warlords (Tau ming chong) Quotes
There are no approved quotes yet for this movie.