What Is It?
(2005)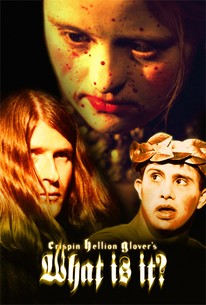 Movie Info
Eccentric actor Crispin Glover makes his feature directorial debut with this Dadaist film experiment about a snail-obsessed boy searching for a way home while struggling with his racist inner psyche. Featuring a cast comprised almost entirely of Down Syndrome-affected actors, What Is It? is the first installment of the surreal "It" trilogy. The second installment, entitled It is Fine! Everything is Fine, followed in 2007.
Critic Reviews for What Is It?
Audience Reviews for What Is It?
½
Crispin Glover was walking on the ground when he made this movie. He didn't make a sound, he in fact turned around and saw a clown.
Jonathon Mitchell
It's definitely best to watch this at one of Crispin's live shows so that he is there to explain his intent in making the film. That aspect itself, gives the film an extra star, because my initial reaction was just 1-star. I really didn't like it, and/because I really didn't get it. Maybe I was just too tired and need to give it another chance when I'm more alert; however, whatever the case may be, I appreciate and respect his intent.
John Baumeister
½
Beautifully filmed movie that largely takes place in the psyche of a young man with Down's Syndrome as he grapples with his libido and internalized racism. Glover not only directs, but plays a sort of tyrannical id figure (who seems to view himself as sort of "pure" or "innocent", as evidenced by his demand to be called Shirley Temple). This films touches on quite a few taboos--the least of which is the notion that people with special needs are somehow beyond the mental poison that our culture seeps into all of us, to some degree. (Glover addressed this point when speaking at the screening on his choice to use a cast mostly of actors with Down's Syndrome). Definitely harsh in places--I'd never heard Johnny Rebel before and it turned my stomach once I did, and really, the salt on snails could have been done with CGI. However, I hope he screens this in NYC again or puts it on DVD, because it feels like the kind of film where more could be taken away through repeated viewings.
Jenny Gonzalez-Blitz
What Is It? Quotes
There are no approved quotes yet for this movie.
Discussion Forum
Discuss What Is It? on our Movie forum!