Wide Awake
(2006)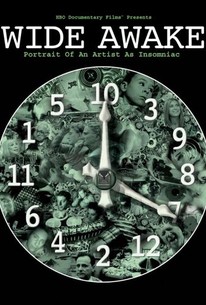 Movie Info
One man's lifelong quest for a restful night of sleep is explored as filmmaker Alan Berliner turns the camera on himself to explore the effects that insomnia has on a man who just can't seem to slow his mind down. Berliner is a man who has fallen victim to his own restless conscience. From as far back as he can remember sleep has been an elusive goal that seems ever farther from reality, but despite his best efforts Berliner just can't seem to find a cure for his condition. Whether the result of simple neurosis or the many demands of his life and family, Berliner's insomnia remains his cursed companion through thick and thin. But Berliner's condition affects more people than just himself, and as the sleep-deprived documentarian interviews family and friends, viewers are treated to an intimate glimpse at how one man's condition can have an unsettling ripple effect on nearly everyone around him.
Critic Reviews for Wide Awake
Audience Reviews for Wide Awake
½
A entretaining and terrific experimental documentary about the battle of the filmmaker Alan Berliner against the insomnia, how this problem influence in his life, in his family and his job. Wide Awake, present with good humor the subject in the main character, make the audience identify oneself with Berliner, and could help some views that suffer with this same disturbance. A modern chronicle about a contemporaneous enemy. Fresh.
Lucas Martins
Super Reviewer
Wide Awake Quotes
There are no approved quotes yet for this movie.