Yellow Asphalt
(2002)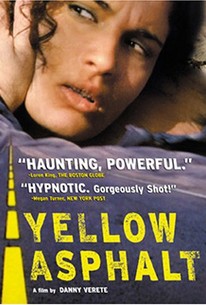 Movie Info
Director Danny Verete's Yellow Asphalt is an anthology of three unrelated stories -- Black Spot, Here is Not There, and Red Roots, respectively. Though the characters and situations in each film are remarkably different (one chronicles the aftermath of a hit-and-run, another concerns an unhappy marriage within a tribal community, and the last follows a woman in a blatantly abusive relationship), the central plots always revolve around the clash of modern Israeli life with ancient nomadic traditions. Yellow Asphalt, unique for its sympathy toward the oppression of Middle Eastern women, took seven years to make, and features Zevik Raz, Moshe Ivgi, Tatjana Blacher, Abed Zuabi, and Motti Katz. ~ Tracie Cooper, Rovi
Critic Reviews for Yellow Asphalt
Audience Reviews for Yellow Asphalt
Three separate stories about Bedouin culture. Living in the desert requires a certain hardness that is foreign to western sensibilities. The first story explores the value of a human life. Sadly, in a place where life is hard and death comes easily, the answer will surprise. The second delves into the relationship between a man and his wife and how all of the power in that relationship resides with the man. The wife is free to leave, but only if she leaves without her children, something she is unwilling to do. The third investigates the Bedouin code of honor. A man's loyalty to the tribe is tested and found wanting. He is then banished from the tribe for turning a blind eye to the waywardness of one of the women. In sum, this film provides a small window on a culture that is totally foreign to us. Hopefully, we come away with a clearer picture of how that society operates and the rules by which they live, even if it does little to engender sympathy or even understanding.
Mark Abell
Super Reviewer
Yellow Asphalt Quotes
There are no approved quotes yet for this movie.