The Titan on the Tracks
EPISODE: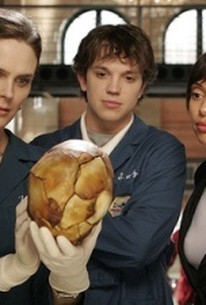 Episode Info
A detailed investigation into the cause of an explosive locomotive accident leads Dr. Temperance Brennan (Emily Deschanel) and FBI Agent Seely Booth (David Boreanaz) to suspect that the incident was much more than a simple suicide as season two of the Fox mystery series gets underway. Upon arriving at the scene of the accident, Dr. Brennan and Agent Booth are both greeted by Dr. Camille "Cam" Saroyan - who speculated that the train was derailed by a car parked on the railroad tracks before revealing that she is in fact Dr. Brennan's new boss at the Jeffersonian. Investigating the body in the scorched car nearby, Dr. Brennan speculates that the victim was male and that there was another catalyst involved in the accident. Afterwards, Cam informs Dr. Brennan and Agent Booth that one of the fatalities in the crash was a senator. Later, at the Jeffersonian, Cam performs an autopsy on the senator as Dr. Brennan and Zack reveal the driver of the car to be an ex basketball player turned powerful CEO. As the investigation intensifies, it quickly becomes apparent that nothing is what it seems in this bizarre case.
The Titan on the Tracks Photos
Discussion Forum
Discuss Bones on our TV talk forum!