Derry Girls: Series 2
(2019)
SEASON: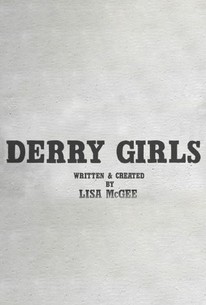 Rate And Review
News & Interviews for Derry Girls: Series 2
Audience Reviews for Derry Girls: Series 2
RATING: A+ Creator: Lisa McGee Director: Michael Lennox Derry Girls Season 2 definitely is as hilarious and bingeable as the first one was. By now you really like all of the characters and you know them, for instance the first time the nun appeared in this Season I instantly knew that she's going to be pissed on by everything. The Writing still is brilliant as well is the Direction. But the noteworthy things are the Production Design and the Costumes.

Remarkable, incredible, phenomenal.

I could watch this show every night of my life. HILARIOUS! Sister Michael alone is worth the price of admission. Terrifically clever writing and acting! Would love to give it 100 stars!

Just a beautifully written and produced series -

I still love the over the top acting and can't wait for season 3.

Amazing show! Can't believe I hadn't watched this earlier. Only complaint is that there are only 12 20 minute episodes, but quality over quantity I guess!

I did like this season and, once again, it packed a good amount of laughs. I don't think it quite reaches the heights of the first season though and I found myself laughing a wee bit less. The emotional impact of the finale also was not quite up to the previous season's level. I'd still recommend to anyone who finds they like British sitcoms however. I'm also quite intrigued to see where season 3 goes now that the troubles are done with.

Since I'm usually a big fan of Irish humor and so many people I know love this show, I watched the whole thing. The over the top acting never got less painful for me. I don't get it.

Derry Girls is fantastic! I've binged the show multiple times

This show is incredible, I don´t remember much from the history, first because I´m not Irish and also because I was a teenager back in the 90's so not at all interested in politics or the world as such. But the characters show us just how important in one's life the moment they're living is. Nicola Coughlan and Jamie-Lee O'Donnell Show a heartfelt and powerful intensity when in character (specially Coughlan), that we long to see in an actor but that nowadays they lack of. so, as you might have guessed, the cast is fantastic! The soundtrack is fantastic, the editing and photography are fantastic! It is fantastically written, soooo witty. I can't get enough of it!