Dollhouse: Season 1
(2009)
SEASON: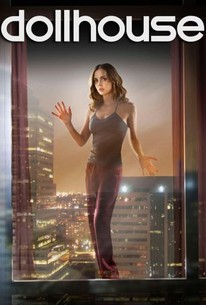 Dollhouse: Season 1 Photos
Tv Season Info
Geek auteur Joss Whedon returned to television five years after the cancellation of his show "Angel" with this high-concept science-fiction series, which focuses on a secretive organization (the "Dollhouse" of the title) that uses futuristic technology to imprint operatives known as dolls with new memories and skills so they can complete assignments for wealthy clients. Eliza Dushku stars as a doll named Echo, whose missions include posing as a client's girlfriend, protecting a pop star and infiltrating a religious cult. Meanwhile, the staff of the Dollhouse attempt to capture an escaped doll with sociopathic tendencies, and an FBI agent (Tahmoh Penikett) works to blow the lid off their operation. The 13th and final episode of the season was originally released as a special feature on the DVD set, and jumps ahead 10 years into the future to show how the mind-altering technology brought about the collapse of human civilization.
Audience Reviews for Dollhouse: Season 1
½
From Joss Whedon comes the exciting sci-fi drama Dollhouse. In Season 1 FBI agent Paul Ballard searches for the elusive Dollhouse, a secret organization that programs people with new personalities and sends them out on missions ranging from sexual liaisons to criminal investigations to assassinations. Meanwhile, one of the Dolls begins to have composite issues; retaining various memory fragments from past personalities that she's been implanted with. Starring Eliza Dushku, Olivia Williams, Tahmoh Penikett, Fran Kranz, and Amy Acker, the show has a strong cast. And, the writers do a good job at exploring the possibilities of personality implants, along with the moral and ethical dilemmas. And while it's ostensibly a mission-of-the-week type show, each episode hints at a larger story-arc about the true mission of the Dollhouse and different factions. A victim of bad timing (the 08 Writer's Strike) the first season of Dollhouse was slated as a midseason replacement and only given 12-episodes (plus an exclusive DVD bonus episodes), but it's still especially strong and is full of mystery and intrigue.
Discussion Forum
Discuss Dollhouse on our TV talk forum!