King of the Hill: Season 13
(2008 - 2010)
SEASON: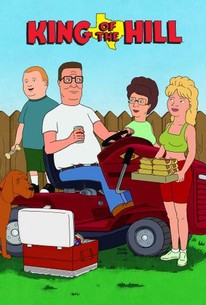 Rate And Review
King of the Hill: Season 13 Photos
Audience Reviews for King of the Hill: Season 13
A great satire with stereotypical overtones yet some episodes lack in charm an feel boring an racist

KoH is safe enough for children to watch, yet adults will find the humor more suited for them. The show is very relatable to every day American life as opposed to most cartoons which will usually get pretty far fetched (to be fair KoH does have some of this, too). Judge does a good job evolving the characters over time. With that being said, it is unclear if he purposely made Peggy Hill over the top cocky/arrogant to the point that there are many forum discussions on how much the fan base could do without her after season 3. I tend to agree with them. All in all this show is very entertaining though. Episodes/scenes that you might not like: Bill's eating is so obnoxious that I found myself fast forwarding any time he decided to gorge himself, even skipping half of an episode to avoid it. Next are the crying babies. If there's an episode with a crying baby (season 4 ep 1 especially), go ahead and prepare to fast forward thru a lot of it with the newly born baby "GH" crying constantly and Peggy wailing most of the episode.