Monsters Inside: The 24 Faces of Billy Milligan
(2021)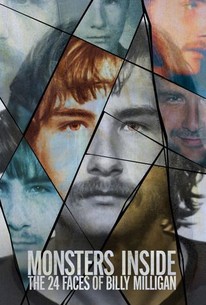 Where to watch
Subscription
Rate And Review
Monsters Inside: The 24 Faces of Billy Milligan: Season 1 Photos
Audience Reviews for Monsters Inside: The 24 Faces of Billy Milligan: Season 1
Dear god, fire whoever made this. Why would you have these people sitting in dilapidated places, and that MUSIC! It hurt my ears and I found myself fast-forwarding through most of this until I just stopped and looked online for the story. Terrible.

I was so excited to watch this docuseries but unfortunately it was boring and bloated.

What a missed opportunity by the filmmakers. They had incredible access to archival assets and to the people who could best tell the story. Rather than rely on that access, they bought an Envato Elements glitch pack and posed subjects in settings that only served to make for a cringeworthy viewing experience. Truly awful direction and editing. Again, a missed opportunity to share a compelling story.

Just tell the f'n story ! Sticato framing, idiotic music, flash shots, subliminal images, strange incongruous seating of the players. An absolute shambles of a documentary. Oh, and no, it isn't a mirror image of the individuals minds, it's just a mess.

This Netflix crime docuseries was ok. The entire crew did a decent job in making this docuseries. This true story about the life of criminal Billy Milligan was intense, bizarre, and insane. Billy, who was believed to have multiple personality disorder, was just acting his way out of prison and doing whatever he wanted in the process. If you decide to watch this sometime, you probably won't enjoy it or even know what's really going on in the series. That's my opinion.

Way too long which creates absolutely no suspense whatsoever, I couldn't care less about him and I skipped some of it for being repetitive.

The story was interesting enough but the series is WAY too long. Repetitive interviews and opinions, dragging what would have been a riveting 1.5ish hour movie into a 4 part series. I found myself tuning out a lot.

The subject matter is fascinating, but sadly the series seemed more about the film director showing off their skills, rather than a genuine in-depth exploration of the topic. The interview set ups were very fussy and distracting. (One takes place inside what appears to be a bank vault - why?) The film also gives lip service to sympathy for the victims of Milligan's violence (at least four rapes and two murders), but we never hear about the impact the crimes had on them or the loved ones they left behind. Instead, centre stage is Milligan's Dissociative Identity Disorder (DID) and the razzmatazz it attracted from an array of psychiatrists, authors and also Hollywood. It was disappointing that the statements from the interviewees are never challenged, including the bizarre assertion by the author, Daniel Keyes that one of Milligan's alternate personalities could "speak fluent Serbo-Croatian". The series has pointed the way for further investigation, but I couldn't help feeling a simpler presentation and a more balanced weighing up of the facts would have been more satisfying.

This series was so repetitive. The entire story could have been told in an hour and a half. The graphics were repeated so many time that they are imprinted in my brain at this point. This is just poor story telling, tighten it up and release it as documentary and save us all some valuable time.

I was looking forward to watching this show, but then the background music started and didn't stop, even when those being interviewed were speaking. I exited the show after a few minutes. If they stop that constant background music, and just let us listen to the people who are speaking, I will return and watch the show!
See Details