Revenge: Season 2
(2012-2013)
SEASON: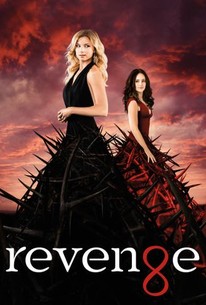 Tv Season Info
In the second series of this mystery, Emily (Emily VanCamp) returns to the Hamptons to continue her mission and, much to her surprise, people from her past show up there as well. Aiden Mathis (Barry Sloane), a fellow former student of Takeda's, arrives to help Emily and as he also completes his own revenge plan concerning his sister's abduction. Before long, he and Emily rekindle the flame they had years ago. Also resurfacing: Emily's mother, Kara (Jennifer Jason Leigh), who was long thought dead; and one of Emily's foster siblings, Eli (Collins Pennie). Emily of course reconnects with many familiar faces, including parents-to-be Jack (Nick Wechsler) and Amanda (Margarita Levieva); and Nolan (Gabriel Mann), who strikes up a romance with his company's new CFO. Victoria (Madeleine Stowe) is less than thrilled to see Emily back, but she and Conrad (Henry Czerny) have bigger problems—namely, the Initiative, a shady group that's helped them in the past and to which they're indebted. As the series progresses, the Initiative grows greedier with their requests, and they're not above threatening to kill Daniel (Josh Bowman) if the Graysons don't co-operate.
Audience Reviews for Revenge: Season 2
½
The tantalizing television series Revenge delivers a thrilling second season full of mind-blowing twists and turns. Picking up several months after the Season 1 finale, Emily Thorne renews her quest for revenge against those who setup up and betrayed her father, and comes to discover that the conspiracy reaches beyond the Grayson family; meanwhile Nolan's company come under attack in an attempt to gain control of a secret virus program that could be used as a weapon. The season has some rough patches where it transitions between the main story arcs, but it finishes exceptionally strong. And, recurring guest stars Jennifer Jason Leigh and Michael Trucco make for intriguing new characters. While it may be a little cheesy and trashy at times, Revenge's second season is incredibly entertaining and fun to watch.
Discussion Forum
Discuss Revenge on our TV talk forum!