The Good Lord Bird: Miniseries
(2020)
Where to watch
Buy from $1.99
Buy from $1.99
Buy from $1.99
You might also like
The Haunting of Bly Manor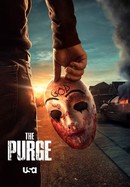 Rate And Review
The Good Lord Bird: Miniseries Videos
The Good Lord Bird: Miniseries Photos
News & Interviews for The Good Lord Bird: Miniseries
Audience Reviews for The Good Lord Bird: Miniseries
If you consider history boring, this proves you wrong.

Ethan Hawke does a great job. Slow at times, but the investment is worth it - providing you appreciate the narrative. Quirky, poignant and well produced. Think of it as the spawn of O Brother, Where Art Thou? and The Watchmen series.

Fantastic show with fantastical performances. All the bad reviews cherry pick one thing to hate on like John Browns taste for religion and then give the entire show one star. It's just a part of the character... why take it so personal.

Fantastically engaging story with a bit of humor full of powerful performances from each actor especially Ethan Hawk. Every bad review I've read simply didn't give the series a chance as the critiques on the historical accuracy of John Brown's education and tragic past are talked about, "boring" ok w/e idk how you can feel that way as I wanted to binge the series from start to finish but fine, just say "historically inaccurate" with no reference to any example (which was what brought me to the reviews in the first place besides sharing my opinion I was curious where they took liberty's besides onion), or instantly upset over the character onion as seeing a boy in a dress sends them into a blind rage apparently. Don't listen to any of the hate as this series was well worth the watch.

horrible show. get better reviewers.

It was entertaining I suppose. Highly revisionist. I do not like historical subjects viewed from a modern perspective. Historical pieces should reflect the times they are set in. That is much more informative and impactful than intruding modern sensibilities. (DO NOT PUT MODERN MUSIC IN A HISTORICAL PIECE! WTF do people like that? Fuck your play list!) I would classify it as Revengesploitation like Django Unchained, but more entertaining and better done. As a turd, it didn't stink too much. John Brown was crazier, more violent, and much more interesting in history than on this show. I wish they would make good historical pieces again.

I only wish the DVD had a caption/subtitle option. I missed too many lines.

A little bit too much about the Lord for my little critical, atheist heart.

This was all about the performances for me, with the two leads Ethan Hawke and Joshua Caleb Johnson complimenting each other brilliantly. Hawke was an absolute delight to watch as John Brown and I was not expecting the tone of this film to be as irreverently humorous as it was. I was becoming giddy any time Hawke started up, with many of his diatribes and musings eliciting audible guffaws. Johnson's running commentary and more realistic view of this world balances well with Hawke's Brown and Onion's seemingly natural ability to create dry humor and pathos simultaneously is quite impressive. The supporting cast generally made the series stronger and I particularly thought Hubert Point-Du Jour who played Bob deserves a nod as well.

Loved this show! Ethan Hawke deserved his nomination for the Golden Globe 🏆 Highly recommend!