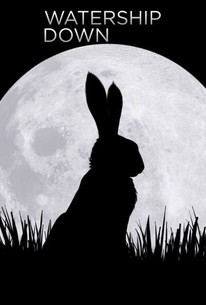 Where to watch
Subscription
Rate And Review
Watership Down: Miniseries Photos
Audience Reviews for Watership Down: Miniseries
The abysmal CGI completely distracts from the story and flattens all characters. Animal animation and fur rendering should be a breeze in the year 2018, just look at all the animated animals in His Dark Materials. Totally incomprehensible.

This CGI re-telling of Watership Down lacks the emotional impact and resonance of the 1978 animation, which had superior voice acting, better music, more striking visuals, and a more intimidating antagonist in its version of General Woundwort. While this reimagining isn't absolutely awful, it just doesn't match what came before. This version does give some extra lore details (we get some backstory for Woundwort, for example), so this might be worth a watch if you're curious about those.

Despite the animation being a bit outdated, Watership Down 2018 provides a good adaptation of a wonderful book, with great voice acting and a fantastic soundtrack.

This 4-episode miniseries adapted from the classic 1972 Richard Adams novel, set in the idyllic rural landscape of southern England, follows a band of rabbits on their flight from the intrusion of man through obstacles posed by predators and adversaries as they head toward the promised land and a more perfect society. It is a tale of adventure, courage and survival that might not have the best animation style, but it successfully reflects the themes of the story. However, it is a tad difficult to distinguish each of the characters and there are too many to tell them apart. The voice cast did an amazing job and the 'lapine language' created by the author is quite interesting, which makes the book even more compulsory reading.

If you loved the book you will love this adaptation of Adam's classic novel. I read this book over 40 years ago and I reread it when my children were reading it. Watership Down is as usual on 2 planes of existence: one for youngsters and one for adults. How many could see the evil warren as Stalin or Castro? Only bicker I have is Rosamund Pike getting top billing for about 2 minutes.
See Details