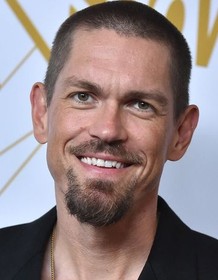 Steve Howey
Highest Rated: 75% Unleashed (2016)
Lowest Rated: Not Available
Birthday: Jul 12, 1977
Birthplace: San Antonio, Texas, USA
Starting out as a child actor, Steve Howey's career took off when he was 17 years old. Howey kickstarted his acting career appearing on various television sitcoms, including "The Drew Carey Show" (ABC, 1995-2004), "Get Real" (Fox, 1999-2000) and "Reba" (2001-07). During the early stages of his acting career, Howey worked in films like "Supercross: The Movie" (2005). He next focused his entertainment career on film, appearing in the Natassia Malthe action film "DOA: Dead or Alive" (2007), "Bride Wars" (2009) and "Still Waiting" (2009). He also appeared in "Stan Helsing" (2009). Recently, he tackled roles in "Something Borrowed" (2011), the romantic comedy "Losing Control" (2012) with Miranda Kent and the Mark Burnham black comedy "Wrong Cops" (2013). He also appeared in the romance "In Your Eyes" (2014) with Zoe Kazan. He also worked in television during these years, including a part on "New Girl" (Fox, 2011-). Howey most recently acted in "See You In Valhalla" (2015).
Photos
Steve Howey
SUPERCROSS, Sophia Bush, Steve Howey, 2005, TM & Copyright (c) 20th Century Fox Film Corp. All rights reserved.
Anne Hathaway, Kate Hudson and Steve Howey in "Bride Wars"
SUPERCROSS, Sophia Bush, Steve Howey, 2005, TM & Copyright (c) 20th Century Fox Film Corp. All rights reserved /
Shameless, Steve Howey (L), Shanola Hampton (R), 'Liver, I Hardly Know Her', Season 4, Ep. #10, 03/23/2014, ©SHO
Shameless, Steve Howey, 'Summertime', Season 2, Ep. #1, 01/08/2012, ©SHO
Shameless, Shanola Hampton (L), Steve Howey (R), 'It's Time To Kill The Turtle', Season 1, Ep. #8, 02/27/2011, ©SHO
Shameless, Steve Howey, 'It's Time To Kill The Turtle', Season 1, Ep. #8, 02/27/2011, ©SHO
Shameless, Steve Howey, 'A Beautiful Mess', Season 2, Ep. #4, 01/29/2012, ©SHO
Shameless, Steve Howey (L), Emmy Rossum (R), 'Fiona Interrupted', Season 2, Ep. #12, 04/01/2012, ©SHO
Shameless, Ethan Cutkosky (L), Cameron Monaghan (C), Steve Howey (R), 'Three Boys', Season 1, Ep. #5, 02/06/2011, ©SHO
Shameless, Steve Howey, 'A Beautiful Mess', Season 2, Ep. #4, 01/29/2012, ©SHO
Shameless, Steve Howey, 'Parenthood', Season 2, Ep. #8, 03/04/2012, ©SHO
Shameless, Shanola Hampton (L), Steve Howey (R), 'Three Boys', Season 1, Ep. #5, 02/06/2011, ©SHO
Shameless, from left: Steve Howey, Emma Kenney, William H. Macy, Cameron Monaghan, Emmy Rossum, 'Just Like the Pilgrims Intended', Season 2, Ep. #11, 03/25/2012, ©SHO
Shameless, Shanola Hampton (L), Steve Howey (C), Emmy Rossum (R), 'A Bottle of Jean Nate', Season 2, Ep. #7, 02/19/2012, ©SHO
Shameless, Steve Howey, 'Father Frank, Full Of Grace', Season 1, Ep. #12, 03/27/2011, ©SHO
Shameless, Steve Howey (L), Emmy Rossum (R), 'May I Trim Your Hedges?', Season 3, Ep. #3, 01/27/2013, ©SHO
Shameless, from left: Jeremy Allen White, Emma Kenney, Steve Howey, Ethan Cutkosky, Emmy Rossum, 'May I Trim Your Hedges?', Season 3, Ep. #3, 01/27/2013, ©SHO
Shameless, Vanessa Bell Calloway (L), Steve Howey (R), 'Cascading Failures', Season 3, Ep. #6, 02/24/2013, ©SHO