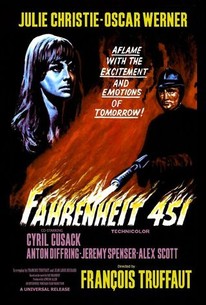 Fahrenheit 451
1966, Sci-fi, 1h 52m
36 Reviews
25,000+ Ratings
What to know
critics consensus
Fahrenheit 451 is an intriguing film that suffuses Truffaut's trademark wit and black humor with the intelligence and morality of Ray Bradbury's novel. Read critic reviews
Rate And Review
Movie Info
Adaptation of the Ray Bradbury novel about a future society that has banned all reading material and the job of the firemen is to keep the fires at 451 degrees: the temperature that paper burns. A fireman begins to re-think his job when he meets a book-loving girl.
Audience Reviews for Fahrenheit 451
More like a jazz riff on the source material than a note by note translation, Traffaut's version actually adds interesting layers not intended by Bradbury. It's always cool to see how the past imagined the future and this imagination is well layered. For instance all the houses have TV antennas. Its a important feature of Traffaut's vision --- and its wrong technically. Nobody back then saw WIFI coming. On the other hand wall-sized flat screens are a right on the money prediction. On the whole the film is an uneven affair, and Werner's presence is disconcerting, yet as sci-fi it totally works. Its not just about burning books. Its about controlling the masses.

Transposed to the screen by Truffaut and with an evoking score by Bernard Herrmann, Bradbury's terrifying vision of a future is a brilliant allegory that remains intelligent and pertinent even today, when books may not be destroyed but are scorned by people.

What has always impressed me about Bradbury's classic is his commitment to post-Enlightenment ideals. This film and Bradbury's novel obviously condemn book-burning. And the film lingers on the burning pages with an almost-overwrought, almost-melodramatic pathos. But it also shows <i>Mein Kampf</i> about to be torched. What Bradbury says is that in accordance with post-Enlightenment philosophy, when people are allowed free access to ideas, invariably the good ideas rise to the top and the bad ones fall. It is only after we trust in the goodness of human perception that we can see the burning of Hilter's work as tragic as the burning of Twain. What I've written so far is only about the source material because that's the only part of this film I liked. We never get to see Montag's journey; he goes from book-burner to reader in the matter of a quick night and a quicker conversation. I normally don't care about set design, but this is a shallow, half-hearted attempt at creating a <i>Stepford Wives</i> future, and we needed a greater commitment to this idea if Truffaut wanted to feature the design so prominently. Finally, I was remarkable unimpressed by Oskar Werner. His command of English was a stark contrast to all the characters around him, and he remained stolid, emotionless, and ineffective throughout most of the film's action. Overall, read the book; don't see the film.

This may seem a strange film if you haven't read the book, but if you have you know it's awesome. I really liked the movie.
See Details