King Kong
(1976)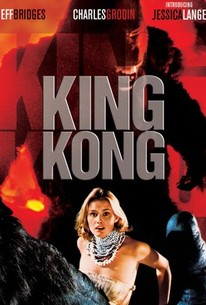 TOMATOMETER
AUDIENCE SCORE
Critic Consensus: King Kong represents a significant visual upgrade over the original, but falls short of its classic predecessor in virtually every other respect.
Movie Info
Famed producer Dino De Laurentiis tries to steal the thunder from Jaws, then the top-grossing film of all-time, in this big budget remake of King Kong. (De Laurentiis related his tactics to Tom Snyder: "When Jaws dies, nobody cries. When Kong dies, they all cry.") Updated to the 1970s, the original Robert Armstrong character is now Fred Wilson (Charles Grodin), a big-shot oil magnate from Petrox Oil, looking for new petroleum deposits on a recently discovered Pacific island. Jack Prescott (Jeff Bridges) is a counter-culture paleontologist, stowing away on Wilson's ship, who warns that they are headed for "Skull Island," where prehistoric monsters still live and roam free. Also along for the ride is Dwan (Jessica Lange, in her film debut), a down-on-her-luck starlet, shipwrecked in the ocean after the sinking of a yacht. She really becomes down-on-her-luck when the group lands on the island and a giant ape, Kong, takes a shine to her. Kong kidnaps her and Dwan takes umbrage when the ape tries to remove her clothes by shouting, "You male chauvinist ape!" But Prescott comes to her aid and rescues her from the gorilla's big mits. Wilson, seeing money to be made on Kong, locks him in the cargo hold of his ship and transports him to New York City. Once there, Kong manages to escape and wreak havoc upon the beleaguered town, before being compelled to climb up the World Trade Center for sanctuary.
People Who Like this movie also like
News & Interviews for King Kong
Critic Reviews for King Kong
Audience Reviews for King Kong
½
With an eye towards re-creating the original, yet with modern day tech, this campy Kong iteration stars Jessica Lange's boobs. There's a big ape too, and Jeff Bridges, and yada, yada, yada ... cut to J.L.'s boobs. Soooo ... fun, eh? Lotsa close-ups of Kong doing what you should be doing: ogling J.L.'s boobs. Technology ... it's a wonder. Two hours. Dino De Laurentiis is a fugging genius. Part of the fun is watching poor Jess trying to out act her chest. And you thought you had problems.
Kevin M. Williams
Super Reviewer
½
A very dull remake of the 1933 classic of the same name. While the original movie may not have been perfect either, it at least had a nostalgic and lively adventurous atmosphere that this remake is severely lacking. The plot is essentially a somehow less-plausible version of the original with not enough variation or added depth to be interesting. The acting is okay all around, but far from the best of each cast member's career. Charles Grodin mostly hams it up while Jeff Bridges gives a decent performance despite some of the film's awful dialogue. However, the worst of the lot is Jessica Lange, who gives arguably one of the worst debut performances by a future Oscar-winner ever. Seriously, I'm surprised she still found work after this film, especially since she has some of the worst lines in the movie (Ex. Have you ever met someone whose life has been saved by Deep Throat?) . Just like the original, the main attraction is the special effects. However, the quality of the effects is a bit of a mixed bag. The Kong suit looks pretty good for the most part and the animatronic face gives way to intriguing new levels of expression for the titanic ape monster. The artificial jungle sets look pretty fake even for the time and the complete absence of dinosaurs is very disappointing. The only other monster we see in this movie is a laughably plastic-looking giant snake. Overall, an average bit of 70's disaster cheese that has not aged well and seems to have been long forgotten.
Christopher Heim
Super Reviewer
½
Okay this is junk but it has it's moments. Certainly more entertaining than the wretched 2005 redo this cheesefest has some decent (and some terrible) special effects and talented actors, although all would probably admit this wasn't their best work. That Jessica Lange went on from this flea bitten claptrap to win two Oscars is a testament to her skill. The same goes for Jeff.
King Kong Quotes
| | |
| --- | --- |
| Camahan: | [conversing with Wilson over the 2-way radio regarding the next procedure in the search for Kong and Dwan] There's gonna be somebody on that radar all night, isn't there? |
| Fred Wilson: | [in a tone of weary disgust] Any large furry BLIPS seen moving in your direction, you will KNOW...! Sweet dreams and out. |
| | |
| --- | --- |
| Fred Wilson: | Ah, the power of it. Ah, the superpower! Hail to the power! Hail to the power of Kong! And Petrox! |
| | |
| --- | --- |
| Dwan: | You know I had my horoscope done before I flew out to Hong Kong. And it said that I was going to cross over water and meet the biggest person in my life. |
| | |
| --- | --- |
| Fred Wilson: | [as the "Petrox Explorer" comes in sight of Skull Island] ... Did you ever wonder how Hernando Cortez felt when he discovered the Lost Treasure of the Incas? |
| Jack Prescott: | That wasn't Cortez; it was Pizarro. And he died flat broke. |