Anastasia
(1956)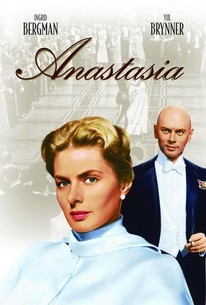 Movie Info
Anastasia is adapted from the popular stage play by Marcelle Maurette. The scene is Paris in the early 1920s. Ingrid Bergman plays a would-be suicide who is rescued by Russian expatriate Yul Brynner. Brynner's motives are far from altruistic; together with a group of Russian cohorts, he hopes to pass Bergman off as Princess Anastasia, the daughter of the late Czar Nicholas. If the conspirators are successful, they stand to collect the ten million pounds held in trust for Anastasia in the Bank of England. The biggest obstacle facing Brynner and company is the surviving Romanov empress (Helen Hayes), who must be convinced beyond a shadow of a doubt that Bergman is the genuine article. Anastasia represented Ingrid Bergman's return to Hollywood after several years' exile following her "scandalous" affair with Italian director Roberto Rossellini. ~ Hal Erickson, Rovi
Critic Reviews for Anastasia
Audience Reviews for Anastasia
½
A beautiful period piece with its own eccentricities, Anastasia is fun and even frivolous at times. It holds a quiet dramatic regard at the travesty of the protagonist's fate and her past without reference, but the only moments of clarity come from actress Ingrid Bergman, who steals the show. She portrays a lonely beggar on the streets of a Russian metropolis, and is found by a disgraced general looking for an imposter to take on the supposedly dead Grand Duchess Anastasia, She is trained to meet the duchess' grandmother who lives in Amsterdam. Easy to recognize from that brief synopsis is the fact that it parallels the very flawed and wildly entertaining nineties' cartoon movie of the same name. For that one reason I found this to be a sensational watch. Looking between the two to see where one fails over the other, while the other succeeds was a tiny thrill for this film nerd. Both succeed in holding interest until the very end, both have a happy ending that you know deep down probably didn't happen, and both are basically about the search for an identity of any kind. This pitiless character, though an abject liar and someone who's fate wasn't known at the time of the film, is really only looking for the truth behind herself. The film does a great job of not drawing its own conclusions by saying it believes one way or another whether it was truth. Though there wasn't a seminal villain or musical numbers, it has the same basic concept which kept interest throughout. This was the most realistic way the events themselves could possibly go, and it remained impartial throughout while staying tongue in cheek. The fact that it was a period piece was well reflected in extravagant costuming, elaborate sets, and dialogue that espoused true melodrama and Russian highbrow stubbornness, in part from the general, portrayed by the very cultured Yul Brynner. Though touchy because it was Bergman's second Oscar, and her time in Hollywood was later marred by controversy, it really was a symbol of Bergman's talents as an actress and her pull in America. If you are wondering, in 2009 DNA testing revealed Duchess Anastasia died with her family in 1918. I am not disputing that this film wasn't at least semi-accurate, but I also don't care because it was an amazing film no matter what.
Spencer S.
Super Reviewer
½
Since I've already seen the new Disney movie of this, I know the story, so as a live action movie, I wasn't very impressed. Of course Bergman is a great actress, and I'm sure she tried her best with this movie, but her performance didn't help my opinion of the film. It was slow and boring.
½
How could any movie with Yul Brynner and Ingrid Bergman rate anything less then 4 1/2 stars. I don't know how my mind gets so wrapped up in so many different types of films but it does. When the movie first started I was wondering how long I was going have to watch this thing, then all of a sudden I was taken in. Yul Brynner plays is forceful roll as he always seems to do. and Ingrid Bergman , well I read where this movie was her comeback movie, maybe in America, but I seriously doubt that it was in Europe. I am sure both actors were far bigger stars outside the US, then in. This movie is a part of Russian History, which I promise will not bore you. The Costumes are fantastic. Nothing here that will put you to sleep, Its a shame that I didn't see this sooner, As one of my Dear Flixster friends sent me a recommendation on this one and I never past one down. Yes 4 1/2 stars, if I wait any longer it will be 5 stars. Thanks Raimoyna.
Bruce Bruce
Super Reviewer
Anastasia Quotes
There are no approved quotes yet for this movie.
Discussion Forum
Discuss Anastasia on our Movie forum!