The Nutty Professor
(1996)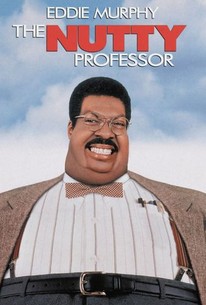 The Nutty Professor Photos
Movie Info
Comedian/actor Eddy Murphy makes a comeback in this at times hilarious remake of the 1963 Jerry Lewis classic. Whereas Lewis' professor was a scrawny nerd who wanted to be suave, well-muscled and cool, Murphy's Professor Sherman Klump is morbidly obese and shy. He dreams of being a thin, buffed ladies' man. Klump works in a university lab researching a new fat-burning formula. When lovely Carla Purty shows up as his new lab assistant, he falls head-over-heels and decides to accelerate the experiments and take a massive dose of the drug himself. Sure enough it works and what was once ponderously rotund Klump instantly becomes Buddy Love, Mr. Cool incarnate. Unfortunately, the drug's side-effect produces an enormous testosterone rush and Love soon proves to pugnacious, obnoxious and sexually insatiable. The drug also wears off at inopportune times so that Klump must take it constantly. It is as Buddy Love that he makes his play for Carla, but is that really what she wants, or is Carla a much deeper well? The movie's unquestionable highlight is the Klump family dinner scene in which Murphy plays all five enormous, people ranging from a hypersexual grandma to his dangerously gaseous father.
People Who Like this movie also like
News & Interviews for The Nutty Professor
Critic Reviews for The Nutty Professor
Audience Reviews for The Nutty Professor
This remake of The Nutty Professor is absolutely hilarious. I think its Murphy's best film and the one he gave his absolute best on. He enthusisatically plays the entire family, having to sit through 6 hours of make-up a day which would depress and annoy most comedy actors today who care more about the money they make then the performance they give. Murphy doesn't resort to this therefore i'm proud to say his performance in the film was solid. The movie itself as I said hilarious!
Directors Cat
Super Reviewer
½
At the time of release, I found this movie to be very funny because it created the modern day genre of one actor playing multiple roles. Eddie Murphy killed as every role and set the stage for other films like it such as the Tyler Perry films, etc.
Eric Alvarez
Super Reviewer
The Nutty Professor is along with Bowfinger, one of Eddie Murphy's last funny comedies. The idea is good, and I enjoyed the comedic elements of the film. Of all the films that Eddie Murphy has starred in, The Nutty Professor is one of his funniest. Sure the film isn't perfect, but there are plenty of good laughs here to entertain the audience. I'm not the biggest Eddie Murphy fan, but I enjoyed this film, and I thought it had some great moments where the film was very well done. The Nutty Professor is a good comedy, and somewhat underrated. However, if you enjoy Eddie Murphy, give this one a shot, The Nutty Professor is one of his last funny roles, and he really does bring on good laughs with his antics in this film. The Nutty Professor has a good cast starring opposite Murphy, and the film boasts another comedic talent, Dave Chappelle. The film works well enough to be an entertaining hour and a half and despite the fact that it's not a comedic masterpiece, the film still has plenty of laughs going for it, and is much better than the second. This is one of Eddie Murphy's last good film roles along with Bowfinger afterwards he really started to make unfunny films that just insulted the intelligence and were a waste of time. Luckily looking back at this film, you realize that Eddie Murphy was once very funny and capable at delivering something unique on-screen. Now, he's totally irrelevant and unfunny. The Nutty Professor may not be the best comedy, but it definitely is worth watching and is pretty funny for what it is.
The Nutty Professor Quotes
| | |
| --- | --- |
| Reggie Warrington: | Women be shoppin'! You cannot stop a woman from shoppin'! |
| | |
| --- | --- |
| Papa Klump: | Oprah and Luther need to keep their asses one way, 'cause I'm confused. |
| Papa Klump: | Oprah and Luther need to keep their asses one way, because I'm confused. |
| | |
| --- | --- |
| Buddy Love: | I Heard Of Dreadlocks, But ****locks? |
| Buddy Love: | I heard of dreadlocks, but ****locks? |
| | |
| --- | --- |
| Mama Klump: | Hercules! Hercules! Hercules! |