The Crucible
(1996)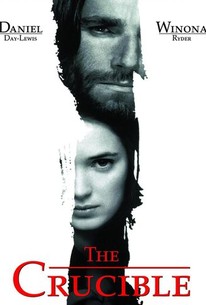 Movie Info
When Arthur Miller's play The Crucible was first staged in 1953, it was widely acclaimed as a metaphor for the recklessness of Joseph McCarthy and his spurious crusade against communism. In its 1996 screen adaptation (scripted by Miller), the tone has been adjusted somewhat and plays as a warning against the dangers of political and religious extremism of all kinds. After a group of young women is accused of witchcraft in the Puritan community of Salem, Mass. in 1692, Abigail Williams (Winona Ryder) is held in suspicion of practicing magic. Abigail in turn levels charges against John Proctor (Daniel Day-Lewis) and his wife Elizabeth (Joan Allen). Abigail has a private grudge against the Proctors; while working as their servant, she had an affair with John, and when John ended the relationship and returned to his wife, Abigail was fired. Now the Reverend Parris (Bruce Davison) is hearing accusations and counter-accusations of misdeeds from all sides of the community in the wake of Abigail's charges, so he brings in Judge Danforth (Paul Scofield) to determine who is guilty or innocent. However, given the moral climate of the time, it seems someone has to be found guilty of witchcraft, even though firm evidence of wrongdoing is becoming hard to come by. This was the second screen version of The Crucible, though it was the first one in English; the previous version, filmed in France in 1956, starred Simone Signoret and Yves Montand. ~ Mark Deming, Rovi
People Who Like this movie also like
News & Interviews for The Crucible
Critic Reviews for The Crucible
Audience Reviews for The Crucible
Be it an allegory of the American anti-communist witch hunt of the 1950s or a gripping story about the horrors of religious fanaticism, collective hysteria and paranoia, this is a riveting, stomach-turning drama with intense performances by an excellent ensemble cast.
Carlos Magalhães
Super Reviewer
Just as good in 2012 as 1996. The screenplay by Arthur Miller is wonderful...the dialogue is true (I guess) to the times, at least it sounds archaic while still being witty and the beginning sequence where the girls rush out to "pray" for specific boys to love them is so right on the money I kept wondering how Miller knew this about girls, and then remembered he was married to Marilyn. The power it unleashes is right on the money as well...You can make comparisons of witchhunts to just about any mass hysteria and this movie nails it. Really wonderful performances by Winona Ryder, Daniel Day-Lewis and Joan Allen. I thought the sets were great, too, and I usually don't pay specific attention to them.
Bathsheba Monk
Super Reviewer
some of the worst overacting I've ever seen in a film and not in the funny and entertaining way. More like the shut the hell up way. The characters are all unlikable and I've read the play and I do enjoy it but this was just done so poorly in my opinion.
Michael Edwards
Super Reviewer
The Crucible Quotes
There are no approved quotes yet for this movie.