Joyride
(1996)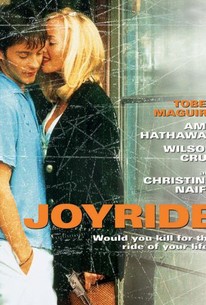 Movie Info
In this film, a bored motel clerk and his buddies go for a little joy ride in a woman's car. They don't realize until it is too late that she is a paid assassin and that her latest victim is in the trunk.
Critic Reviews for Joyride
All Critics (5) | Top Critics (1) | Fresh (1) | Rotten (4)
A depressingly mediocre little film
May 30, 2001
Joyride plows through its crime flick checklist of unsavory characters and rote plot divergences with a dreary efficiency.
B-grade thrills
September 29, 2002 | Rating: 3/5
Audience Reviews for Joyride
Curse you IMDB! Saw this fon iTunes as one of their 99¢ rentals of the week. I checked IMDB and saw: thriller, Steve Zhan, 6.6. For a buck? ... Sure, sign me up! Unfortunately, that was "Joy Ride", this is "Joyride", and it is a complete train wreck. Honestly, there is nothing redeeming about this film. At. All. Tobey is the star and is attrocious. The dialogue is fragmented. Moves at a snail's pace. I place complete blame at the feet of director Peeples, and would say this convinced me to avoid all of his films, but, well, you're looking at his filmography as a director. It wasn't my fault! I was tricked! I want my dollar back! Rrrrrrg!
Joyride Quotes
There are no approved quotes yet for this movie.