Bates Motel
(1987)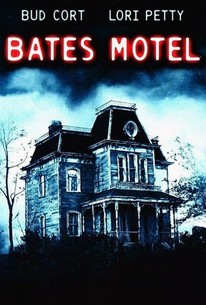 AUDIENCE SCORE
Critic Consensus: No consensus yet.
Movie Info
This busted TV pilot film is set in the sinister family-operated motel made infamous by Hitchcock's Psycho. Former mental patient Bud Cort inherits the motel from its cross-dressing owner Norman Bates (played in Psycho by Anthony Perkins, who wisely passed up this TV film). With the help of runaway teen Lori Petty, Cort renovates the motel and hopes to re-open for business. Unfortunately the joint is haunted, thus it attracts only devotees of the Supernatural. Bates Motel was aimed at teenagers, who turned away in droves.
Critic Reviews for Bates Motel
There are no critic reviews yet for Bates Motel. Keep checking Rotten Tomatoes for updates!
Audience Reviews for Bates Motel
½
Low Budget, made for TV spin off of the Psycho series, Bates Motel is an ill fated attempt at reinventing the series. The film never takes off, and the film just ends up being your standard, made for TV train wreck that should be avoided. Psycho is one the defining horror classics, and it influenced countless filmmakers. The sequels weren't bad either, but none captured the essence of Hitchcock's harrowing original work. The idea might have been interesting, but there is just no substance to the film's story. The idea is a bit interesting I have to admit, but there can't be a Psycho film with Norman Bates. The cast is boring and what might have worked with the plot, just ends up failing because there are too many things that simply don't work here and end up falling flat. You simply can't have a Psycho spin off without Norman Bates, it just doesn't work. The script itself lacks anything to really terrify the viewer, and Bates Motel as a whole is just a dull, boring affair that fails to capture the vibe of the series. There is a significant lack of suspense and terror, thus it just never takes off, and cannot be salvaged. I wonder why they even attempted at trying to do a spinoff of the series; it just falls flat and doesn't deliver anything memorable or entertaining. This is a boring film, one that is just not worth your time. Don't expect much from this, this is a poorly made feature that tries to capture Psychos effective elements, but never delivers anything that will terrify viewers. Bates Motel is just a waste of time.
Whoever wrote this apparently never actually saw Psycho since there's just way too many glaring mistakes: Fairvale becomes Fairville, Norma Bates becomes Gloria Bates and on and on. The telefilm itself is all over the place one minute acting like an episode of The Twilight Zone (Bates' land is apparently highly susceptible now to paranormal activity) to an episode of Scooby Doo. Even Psycho completists should avoid this embarresingly bad TV trash.
A.D. Villarreal
Super Reviewer
Bates Motel Quotes
There are no approved quotes yet for this movie.