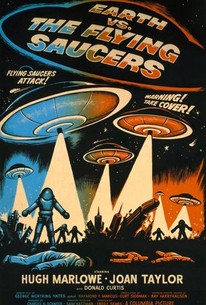 Earth vs. the Flying Saucers
1956, Sci-fi, 1h 23m
15 Reviews
2,500+ Ratings
Where to watch
Rent/buy
Rent/buy
Rate And Review
Earth vs. the Flying Saucers Photos
Movie Info
A space scientist (Hugh Marlowe) figures out how to down a fleet of alien spacecraft looming over Washington, D.C.
Genre: Sci-fi

Original Language: English

Director: Fred F. Sears

Producer: Charles H. Schneer

Release Date (Theaters): original

Release Date (Streaming):

Runtime:

Distributor: Columbia Tristar, Columbia Pictures
Audience Reviews for Earth vs. the Flying Saucers
Fantastic title for a film this, quintessential 50's sci-fi schlock with a typical tacky title that tells you everything you need to know, but it sounds so damn cool! The funny thing is this film really should be called 'Earth vs the USA' because there isn't really anyone else involved. How dare those pesky aliens even think about attacking the US of A! Stars n Stripes away lads! So plot...UFO's attack the Earth, USA attacks back, USA wins, the end. What would we do without the USA? I ask ya. Much like 'It Came from Beneath the Sea' this film is made up of a lot of dialog involving what is happening and then how to deal with it, plus a small romance stuffed in the middle. There are snippets of UFO/alien action dotted throughout but the main event doesn't kick off until the end typically. When we do see the aliens they are gloriously basic looking bordering on childish. For the day I'm sure they looked quite impressive but naturally these days they attract more giggles as they waddle around in their cardboard looking space suits. The small segment where the hero tries on a captured alien helmet is so daft and cheap looking its fantastic, he literately has a plastic bucket on his head. The actual flying saucers are of course the highlight of the film. Even though they are incredibly basic in design they have influenced so many sci-fi films ever since (famously 'Mars Attacks' which is pretty much a homage) and probably people's minds in how alien craft should look. Animated by Harryhausen they don't look much of a challenge for the skilled craftsman but its the destruction of major buildings when the saucers crash that present the work and show his talents. How iconic is the downfall of the Washington Monument! that little sequence is still perfect to this day, and lets not forget about that classic flying saucer humming noise they make. What I did find amusing was the fact these aliens were suppose to be attacking the entire planet. Yet once our plucky hero and his glamorous assistant worked out how to defeat them and went about doing so with many faceless expendable military men, that was it! They brought down all the saucers and that was it, no one thinks to check for the alien crews inside in case they are gonna attack. Plus no one mentions anything about the rest of the saucers attacking other countries, did all they manage to defeat the saucers the same as the heroic Americans?? there is no mention of sharing their alien beating discovery with other countries I don't think (unless I missed it). I would also hope they use the new alien technology for their own gains, no mention of this but surely they would for the sequel. So yes the whole film is pretty much exactly the same as all the previous films, it just substitutes monsters for aliens. We have the standard sensible hero, his attractive female sidekick, plenty of elderly/brainy scientists and military types all together with an 'if it ain't broke don't fix it' formulaic story. As that saying suggests it does work and it is good fun, the flying saucer sequences being the best of course. Not the best film, still not beating '20,000 Fathoms' but definitely better than 'It Came from Beneath the Sea'.

I've been taking these films in in waves. I don't think that I could watch all of them in a row. As I stated in previous reviews, the most memorable thing about films with Ray Harryhausen special effects are Ray Harryhausen specal effects. Unfortunately, Earth VS. the Flying Suacers doesn't fall into that category. It's not a good film either. To me it's just another echo of the incredibly well-made The Day the Earth Stood Still, as well as being just another 50's flying saucers B movie. Other than that, it doesn't really have that much going for it. I find Joan Taylor ridiculously annoying and Hugh Marlowe just boring. The special effects don't really stand out to me. They might have for their time, but they're just the standard fair for the era and not much else. To say the least, this is just a boring film in all respects.

Although it follows the formulaic fifties plot for a sci-fi movie, this movie is pretty spectacular when it comes to its special effects. Overall, pretty good, but it could be better.

Taken for what it is, a product of atomic paranoia, this is a hooty flick.
See Details