Essex Boys
(2000)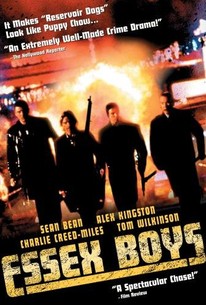 Movie Info
Terry Winsor directs this two-fisted tale of drug, guns, and murder based on a real-life gangland killing that left three dead in the snowy Essex backcountry. The film opens with cabby neophyte Billy (Charlie Creed-Miles) getting hired by suave drug baron John Dyke (Tom Wilkinson) to shuttle around recent ex-con Jason Locke (Sean Bean). Locke is a disaster waiting to happen; half-psychotic with a volcanic temper, he kills and disfigures without a second thought. Yet he takes a shine to his young driver and soon starts including him on his nefarious errands. Meanwhile, Locke arranges for his wife Lisa (Alex Kingston of ER fame) to call in a favor from Dyke and has the kingpin procure a shipment of ecstasy. Unfortunately, the E proves to be bad, hospitalizing scores of ravers and almost killing Locke. With his street rep trashed, the sociopath vows bloody revenge on his former partner, while Dyke and his lover Lisa plot Locke's demise.
Critic Reviews for Essex Boys
Audience Reviews for Essex Boys
½
Mafia movies are always somewhat confusing. They move very quickly, so it's hard to keep track of the timeline, and they introduce characters so quickly, that at times it's hard to keep track of who's who. Sometimes you have to watch a good mafia film a couple times, just so you can pick up on everything, but with Essex Boys, you'd be lucky to make it through the film just once. If the fast pace of the movie and large cast weren't confusing enough, add thick British accents to the mix, and it's hard to know what's going on. Sean Bean is a favorite of mine, especially when he's playing a bad guy, but there is so much back and fourth between different factions in this film, that I'm not so sure he was the bad guy. In fact, I'm not too sure of anything with this film. To me, Essex Boys was just one big confusing mix of gangsters double crossing and shooting at each other, the whole thing just didn't make a whole lot of sense at all. It really was a difficult film to watch and apparently, according to the other poor reviews, I'm not the only one who thinks so. Despite all that, not one, but two sequels have been made to this film. I am just bewildered by the whole thing, and my best advise is that even if you are the biggest mafia movie virtuoso in the world, this is a film you should definitely skip.
Todd Smith
Super Reviewer
Just bumped onto it, and couldn't simply miss it after knowing it's based on real events. Just can't help it. But it turned out to be an alright TP. While the story was okay, it's the acting that crushes the film. All the actors seemed to be on their worst. Sean Bean is an utter disaster. Charlie Creed-Miles excelled him by & large, but as the movie approached towards its culmination, even he's out in the competition of sucking. Fair fare.
familiar stranger
Super Reviewer
This film is a British gangster thriller that carries an added edge of realism with the police?s discovery of a Range Rover in an Essex wood containing three dead bodies riddled with gunshot wounds. Sean Bean plays the gangster and is convincing as the psychopathic Jason Locke combining ruthless violence with a preening narcissistic streak and Charlie Creed-Miles is the trainee chauffeur, Billy who works for the just-released con and his greedy backstabbing buddies. He is the innocent pawn that is unwittingly pulled into a situation above his head. Alex Kingston brilliantly portrays Jason?s vengeful wife, Lisa and as we learn later on, she is a woman not to be scorned and screws them all literally as well as figuratively with double crosses galore. The film is gutsy, violent, has nasty paybacks and a dark mood to it but I think it?s worth a view.
Essex Boys Quotes
There are no approved quotes yet for this movie.