Free Willy 2: The Adventure Home
(1995)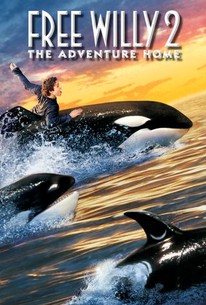 Free Willy 2: The Adventure Home Photos
Movie Info
Two unlikely friends -- a boy and a killer whale -- are reunited under potentially dangerous circumstances in this sequel to the successful family adventure Free Willy. Jesse (Jason James Richter) has finally found stability and contentment with his foster parents Glen and Annie Greenwood (Michael Madsen and Jayne Atkinson), but he is confronted with a new emotional challenge when his birth mother (a drug addict who abandoned him when he was young) dies, and his troubled half brother Elvis (Francis Capra) comes to live with the Greenwoods. Jesse also deals with new feelings when he develops a serious crush on Nadine (Mary Kate Schellhardt), the goddaughter of Randolph (August Schellenberg), an animal trainer at the theme park where Jesse helps out. But a much bigger problem is on the horizon when the safety of Willy, the killer whale he befriended and helped return to the wild, is threatened. An oil spill spoils the ocean environment where Willy and his family now live, and an unscrupulous owner of an oceanarium, Wilcox (M. Emmet Walsh), attempts to capture Willie and put him back into captivity as a performing attraction. While Free Willy featured Keiko, a trained whale who (ironically) was living in captivity when the film was shot, Free Willy 2: The Adventure Home instead utilized mechanical models and digital animation to bring "Willy" to life. ~ Mark Deming, Rovi
People Who Like this movie also like
Critic Reviews for Free Willy 2: The Adventure Home
Audience Reviews for Free Willy 2: The Adventure Home
As far as sequels are concerned, Free Willy 2 is as pointless as they come. The film is terrible, considering that the first was decent. The film doesn't do anything new or exciting and the film is pretty pointless. I don't see why the first needed a sequel. In this film you have a pretty bad cast of actors. I really felt like this film could have been something better, but it wasn't. I felt that the story wasn't that great. The cast seemed to try hard to outdo the original, and they failed miserably. I didn't like this film and I was pretty bored with it. The film is simply awful, and fails to capture what made the original a decent viewing. This sequel is one of the worst that you can see and I just didn't think it was necessary to make. The talent involved is just pitiful and Free Willy 2 is yet another bad sequel in a series of bad sequels. I enjoyed the original when I was younger, and I remember this one quite well too, and like I just stated, it failed to entertain me, and they tried too hard to outdo the original. Free Willy 2 is terrible. Simple as that. The film could have been better, and it shows that it could've been better. The film felt rushed, obviously to cash in on the success of the first, and in the end, it failed to deliver anything entertaining or good for that matter. People, who enjoyed the first film, may want to skip this film because there is nothing going for it that makes it a good film. The plot is poorly written, the acting is bad and the direction is sloppy. A very poor attempt at creating a sequel to what many viewers see as a classic.
An okay sequel to Free Willy. It's not as political and emotional as the first, though.
Not quite as original as the first! But still likable!
Free Willy 2: The Adventure Home Quotes
There are no approved quotes yet for this movie.