Love's Abiding Joy
(2006)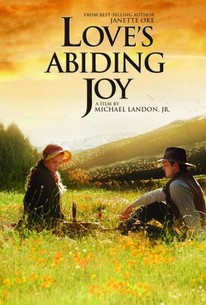 Love's Abiding Joy Photos
Movie Info
Acclaimed author Janette Oke's bestselling series of books comes to life on the screen once again in this, the fourth feature following the continued Westward journey of settlers Missie and Willie Lahaye. Their roots now firmly planted as they set up homestead in the far West, Missie (Erin Cottrell begins to realize her passion for teaching as Willie (Logan Bartholomew) cares for the couple's young daughter Kathy while expanding the family ranch with a little help from sons Jeff (Dre Tyler Bell) and Matthew. When the frontier railroad comes to town, the pleasure of a long-promised visit from Missie's father Clark (Dale Midkiff) is suddenly offset by the tragic death of young Kathy. As the untimely demise of their beloved daughter begins to drive an emotional wedge between Missie and Willie, the devastated father unexpectedly accepts an offer made by the powerful Samuel Doros (John Laughlin) to assume the role of town sheriff. Their faith shaken and their once close-knit bond suddenly torn asunder, Missie and Willie desperately attempt to bring their crumbling family back together as son Jeff faces a series of dangers while hopelessly falling for Doros' beautiful daughter Colette (Mae Whitman).
Critic Reviews for Love's Abiding Joy
Audience Reviews for Love's Abiding Joy
½
I thoroughly enjoy this series, but this was one of the weakest ones. Story weak. Acting weak....and to make matters worse, the DVD that I watched did not have the voices matching the mouth movements. Hate that...
Cynthia S.
Super Reviewer
½
Written and directed by Michael Landon Jr, or Michael Landon's son, not especially my favorite in this series of Christian films, it is filled with depressing scenes and has for a change a real villain, a town rich guy who likes to lend people money only to take their farms when hard times come and they can't pay back. Due to those hard times, a farm owner's wife stops being a teacher and he has to become a sheriff and forced to do the will of the wealthy family in the town. One of a series of westerns, or more appropriately, just plain old melodramas set in the latter 1800's in the plains states most probably. Some are set in the midwest, Sikeston Missouri to be exact. Like the Little House TV series made by his father Michael Landon, this Love Comes Softly series was made by his son, junior. It has much the same tone as the Little House television show, making much of interelationships in hard times. Not a bad film and worth watching at least once. Not a curse word in the entire script, just a slow, methodical march to the end. Approx. run time 87 min Genre Christian drama Written by Michael Landon Jr. (Michael Landon's son) Douglas Lloyd McIntosh Bridget Terry Janette Oke Directed by Michael Landon Jr. Produced by Brian Gordon Erik Oslon Starring Erin Cottrell Frank McRae Drew Tyler Bell Mae Whitman William Morgan Sheppard Editing by Colleen Halsey Music by Kevin Kiner
monsieur rick
½
All of the Janette Oke?s filmed stories, most of which are directed by Michael Landon Jr., suffer from extremely poor period detail, the inaccuracies glaring and distracting. The art direction is among the worst I have ever seen. They also have overdone make-up, an overbearing and intrusive score and amateurish acting. The stories are just too unprofessional to work on any level. They look low budget and the screenplay is laughably poor at times.
James Higgins
Love's Abiding Joy Quotes
There are no approved quotes yet for this movie.
Discussion Forum
Discuss Love's Abiding Joy on our Movie forum!