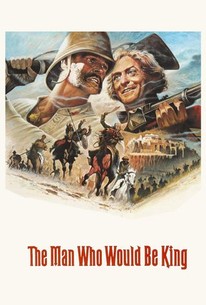 The Man Who Would Be King
1975, Adventure/Action, 2h 9m
32 Reviews
10,000+ Ratings
Where to watch
Rent/buy
Rent/buy
Subscription
Rent/buy
Rate And Review
The Man Who Would Be King Photos
Movie Info
Based on a short story by Rudyard Kipling, this adventure film follows the exploits of Peachy Carnehan (Michael Caine) and Danny Dravot (Sean Connery), English military officers stationed in India. Tired of life as soldiers, the two travel to the isolated land of Kafiristan, where they are ultimately embraced by the people and revered as rulers. After a series of misunderstandings, the natives come to believe that Dravot is a god, but he and Carnehan can't keep up their deception forever.
News & Interviews for The Man Who Would Be King
Audience Reviews for The Man Who Would Be King
Easily one of Huston's best movies. I tend to think the narrative sort of lulls you into thinking it is a certain kind of 19th century swashbuckling adventure, only to wind up as a cautionary tale. The story ends horribly for the two central characters because of course it does.

Two scrappy if amoral Brit Adventurers decide to carve out a bit of the third world for themselves (just as they've seen nations, particularly their own, do). They don't make 'em like this anymore, and hence the love this work generates, while it's stars, connery and caine, both sort of embody the last of the era they portray. The story, if slight, is played with heart. And Pith helmets.

Usually, I would consider a title like that to be pretty cool, but really, it kind of diluted my interest in the film, because it doesn't really seem all that well thought-out. I can see the book's author, Rudyard Kipling, sitting around, trying to think of a title he finally thinks to himself, "Hm, let's see, it's a period piece about a man... who would be king; oh, pip-pip cheerio and all that crumpet, I do believe I've got it!" I think that it's safe to presume that he said something along those stereotypical lines, because the film alone is British as all get-out. Granted, it's directed by an American, but it's John Huston, and he was hardly shy of flaunting his English roots, so you better believe that this film is British something fierce, as if the cast wasn't enough evidence, because we're talking about Sean Connery, Michael Caine, as well as, of course, Christopher Plummer as Kipling himself. Yeah, Chris Plummer wishes he was British, and thank goodness for that, because in order to be more like the Brits, he learned to pull off flawless faux accents, and that's amazing when you consider that he's an Ameri-oh, wait, he's Canadian, so nevermind. A lot of Canadians have a flat accent, much like Americans, and yet, everyone from an accented country seems to forget that and only call out Americans as the people who can't usually do other accents well, though that might just be because Canada's got Chris Plummer on its side, and he makes for a pretty strong argument, because he managed to pull off Rudyard Kipling, and that's pretty darn English, as made clear by much of his work, including this film's source material. Hey, say what you will about the, well, still admittedly pretty cool title, but I'm betting that short story sure made for a good read, though the film, on the other hand, while reasonably worth watching, isn't exactly all that consistently thrilling of adventure film. The earlier acts of the film are limp something fierce, dragging along with a dry atmosphere and even a considerable bit of quietness that taints the film with a degree of dullness, the sting of which goes worsened by the simple fact that very little happens in that first act. The film fails to open terribly strong and just kind of limps out, but just when you succumb and fear that the film will descend to underwhelmingness, the film, well, just enters second act, and that's about it. The film perhaps picks up at the body, though if it does, then it really doesn't pick up all that much, dismissing enough limpness to keep from getting dull, yet sustaining much of the limpness that tainted the first act and plagues most of this final product. Little happens throughout long periods of this film, and after a while, it's easy to become disengaged, as the film's breaking from its consistently dry and somewhat bland tone is an event that doesn't occur as often as it should, and such tonal consistency is not only problematic because there's not much bite to the tone to begin with, but because the film's running a mostly straight line of tone leaves narrative structure to take damage the film to not always pick up when it should. Now, the film never falls too far when it limps out and isn't likely to at some point along the way, as the film does, in fact, pick up slowly but surely, until by the final act, we're facing an actually genuinely good film, yet that's too little too late, as the remainder of the film fails to hit as hard as it should have, because John Huston fails to do that could have saved this film from underwhelmingness: provide enough depth. This film is definately an adventure piece, and after a while, it becomes something of an epic, though that's almost all in concept, as Huston's directorial execution doesn't quite provide enough tonal sweep or depth to really milk this film for all its worth, and with Huston instead further diluting intrigue through slowness and limited tonal dynamicity, the final product comes out not quite what it should have been. However, what ultimately emerges is nevertheless an enjoyable film that may not be able to consistently sustain your attention, let alone full investment, but provides enough of what you want to get you by, particularly if you're looking for a production fit for the epic that this film should have been more like. The film is not exactly heavily produced, though its production value remains reasonably hefty in quantity, as well as fairly impressive in quality, reconstructing this time period with grand yet delicate authenticity, while keeping dynamic in design concepts for you to feel the progression of this adventure, maybe even to the point of feeling some of the epic sweep that John Huston needed to deliver more of. What certainly provides a degree of epic sweep is Oswald Morris' photography, which has dated in several areas, yet remains grand and lively with a broad scope that captures this environment and brings it to life, particularly during the scarce yet worthwhile battle sequences. The film is certainly impressive on a technical level, and while those technical values have dated to a certain extent, they carry this film quite a long ways, while the man who keeps this film going the rest of the way is Rudyard Kipling, who really has crafted a fascinating and lively story that I'm sure must make for a pretty good read, as it does make for a pretty good concept for this film. John Huston's and Gladys Hill's execution of the concept, however, doesn't entirely do it justice, yet neither does it betray the concept entirely, as Huston and Hill do provide a screenplay that is flawed, yet generally well-structured, with some snappy dialogue, lively set pieces and charming characterization, and with his directorial execution, Huston makes many missteps, yet still does an adequate job for the story to charm, while the lead performers fire on all cylinders when it comes to delivering on charm. Sure, Christopher Plummer charms as the legendary Rudyard Kipling during the few times he's present, but this is Sean Connery's and Michael Caine's show, and you better believe that our legeneray charmers of British leads let you know for sure that this is literally Sean Connery's and Michael Caine's show, because they are playing themselves, as they always do, which is just the way I like it. Connery and Caine deliver on distinct, firecracker charisma that defines the Daniel Dravot and Peachy Carnehan characters as, well, Connery and Caine, respectively, but also as down-to-earth, yet still strong and unique enough for them to be bought as people who would find themselves in such grand situations as the ones portrayed in this interesting story. Connery and Caine charm by their own rights, and as a duo, they're sensational, boasting electric chemistry that defines the definitive comradery between our two leads and does the most in carrying this film, something that I wish had more than just the charm of its leads, worthiness of its source material, quality of its technical value and inspired occasions in writing and direction to keep it going, yet is still nevertheless kept going enough for you to walk away, maybe not terribly satisfied, but still with more reasonably fond memories than disappointments. Bottom line, the film has its occasions of being dull, yet is consistent in being rather bland, as it is slowly, if not limply told, with limited tonal dynamicity, overlong periods of filler and, worst of all, not enough depth or sweep to sustain your complete attention, let alone full investment, thus leaving this final product to fall from its throne of potential satisfaction, yet never fall too far from grace, boasting clever production designs and sweeping photography, as well as a strong story concept that is generally well-structured by John Huston's and Gladys Hill's screenplay, as well as occasionally well-executed by John Huston's direction, but mostly brought to life by the sparkling charisma and chemistry between leads Sean Connery and Michael Caine, who do the most in making "The Man Who Would Be King" an enjoyable adventure opus that's reasonably worth sticking with. 2.5/5 - Fair

The Man Who Would Be King tells the story of two men out to seek their fortunes as they go into a small village and build themselves up as people of importance in order to start their own nation. This is a film that I had been hearing about for a long time from various people that it was just a fantastic movie and one that doesn't get much attention these days. While I agree it's certainly underrated and not talked about, I wouldn't call it a masterpiece. The film definitely has some merit to it, but I do have to say that I was sort of bored for the first half hour or so. Things take so long to set up in a story a little over two hours long that you just want it to get there already. There's no real conflict character-wise until the third-act, which is a bit off-putting. Sean Connery and Michael Caine give good performances, of course, but the story is very uneven to me. I liked it, but I can't say that I'd recommend it without mentioning some of its faults.
See Details