The Mask of Zorro
(1998)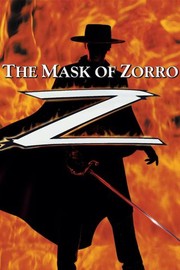 Tickets & Showtimes
The Mask of Zorro Trailers & Photos
Movie Info
Director Martin Campbell, well-known to the action arena after 1995's GoldenEye, teams up with executive producer Steven Spielberg to bring the first Hollywood production of creator Johnston McCulley's Zorro in over four decades to the big screen. With scenic 18th century Mexico as a backdrop, Anthony Hopkins plays the original Zorro, a.k.a. Don Diego de la Vega, intent on revenge after rival enemy Don Raphael Montero (Stuart Wilson) murdered his wife and took his daughter, Elena. After being imprisoned for 20 years, the fabled hero removes his mask and takes on a tarnished young apprentice, Alejandro Murieta (Antonio Banderas), to infiltrate Montero's plan to take control of California from Santa Anna. A boisterous outlaw with his own desire for revenge, Murieta works with Diego to avenge his brother's death by the sword of Montero's right-hand man, Captain Harrison Love (Matt Letscher, in his big screen debut). After Diego's extensive training in swordfighting, discipline and manners, a new Zorro appears wreaking vengeance and stealing the heart of a now-grown Elena (Catherine Zeta-Jones). A sizable summer hit, the film served as Zeta-Jones' stepping stone to leading lady status as the high-spirited heroine. ~ Rachel Koetje, Rovi
more
Sony Pictures Entertainment
Cast
News & Interviews for The Mask of Zorro
Critic Reviews for The Mask of Zorro
Audience Reviews for The Mask of Zorro
This is such a beautiful interpretation of a long absent hero. I remember loving the Disney version when I was little and this was such an exciting moment. Bringing back the character in a way that pays homage to the original incarnation, but also creating a new story is the best way to go about it. Anthony Hopkins does a great job of brining back Don Diego de la Vega from cinematic death and making him just as charming and undeniably cool. Even when he plays the older version of the character, it's obvious how powerful his performance is. However, it really is Antonio Banderas' performance as the new Zorro, Alejandro Murrieta, that steals the show and makes you truly feel the weight of the legendary character. His approach is so much fun to watch. Martin Campbell sure makes an effort to have Zorro appear larger than life. I don't think I've ever seen such a large scale accompanying the character. He gives us ridiculously cool action sequences, amazing sets and a realistic backdrop of California in the 1800s. This also pits Zorro against two extremely evil villains that make for a lot of intensity. Having a cannibalistic blonde-haired goon is just a taste of the dynamite characters. I remember being completely blown away as a nine-year-old in the theater and it still sort've has the same effect all these years later.
Entertaining and dashing, The Mask Of Zorro is a superb action film. Antonio Banderas gives the greatest performance of his career as Zorro. A thrilling action packed film, The Mask Of Zorro is a superbly crafted action film that is entertaining and thrilling throughout. The film is never boring and delivers terrific action. The acting is terrific as well, and the cast alongside Banderas is great. Anthony Hopkins stars as the original Zorro who takes an apprentice under his wing to exact revenge on the man who imprisioned him and took away his daughter.I have to admit, I never really was a big fan of the Zorro character, but after seeing this film I was blown away. The best way to describe this film is an action packed period piece. The story is engaging enough to keep the viewer entertained and thrilled. I viewed this film quit a few times since its initial release and it doesn't seem dated one bit. The film is just as good now as it was when first released. The Mask Of Zorro remains Antonio Banderas' best performance and he give his all on screen. He is the perfect choice to play Zorro. The film may be uneven, but it succeeds on many levels. A highly entertaining action packed adventure that hits the right notes. Even if it has imperfections, there are more high points than low points. An entertaining film that actually makes Zorro an interesting action hero again.
The Mask of Zorro Quotes
Elena: [dancing with Capt. Love] Yes? Were you looking for something?
Alejandro Murrieta/Zorro: The sense of the miraculous in everyday life...
Capt. Harrison Love: Oh really? Well why don't you try looking someplace else. The lady and I were trying to dance.
Alejandro Murrieta/Zorro: You were trying...she was succeeding! ... Forgive me, Capitan...a shameless joke at your expense, and I hope it will not be the last!
Don Diego de la Vega: You have passion Alejandro and your skill is growing. But when to Montero's world I must give you something which is COMPLETELY,..beyond your reach.
Alejandro Murrieta/Zorro: Ah yes? And what is that?!
Don Diego de la Vega: Charm.
Alejandro Murrieta/Zorro: And what is that?....
Don Diego de la Vega: [chuckles] Convince Montero that you're a gentleman of stature,...and he will let you into his circle.
Alejandro Murrieta/Zorro: Me?.....A gentleman?......Hmm..This is going to take a lot of work.
Don Diego de la Vega: [blows a puff of smoke] Yes....
Don Rafael Montero: I would never have let any harm come to her...
Don Diego de la Vega: She was never yours to protect.
Don Diego de la Vega: Do you know how to use that thing?
Alejandro Murrieta/Zorro: Yes. The pointy end goes into the other man.
Don Diego de la Vega: [sighs] This is going to take a lot of work.
Discussion Forum
Discuss The Mask of Zorro on our Movie forum!
News & Features