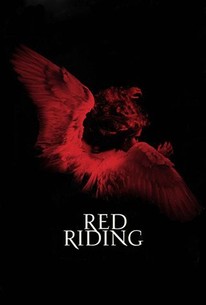 Red Riding: 1974
2009, Crime/Drama, 1h 42m
13 Reviews
2,500+ Ratings
Rate And Review
Movie Info
When a young girl goes missing, Yorkshire Post crime reporter Eddie Dunford (Andrew Garfield) becomes intrigued by a series of mysterious child murders that date back several years and mirror to the current case. He faces stiff opposition from the local police and his editor, Bill (John Henshaw). Eddie's troubles escalate when he becomes involved with a moody widow (Rebecca Hall) who has a mysterious connection to wealthy developer John Dawson (Sean Bean).
Audience Reviews for Red Riding: 1974
It definitely gets off to a very slow start, but Red Riding: 1974 eventually escalates into a nightmarish and intense thriller that has one of Andrew Garfield's best performances of his career. Garfield plays Eddie Dunford, a young and passionate journalist in Yorkshire investigating a set of child murders that seem to be connected. However, his investigation is made more difficult by a corrupt police force that does everything in its power to keep Dunford from discovering the truth behind the murders. The easiest way to describe the movie is that it puts a British spin on David Fincher's Zodiac, except it takes a bit longer to build up to the level of suspense achieved in that film. The first forty minutes play out very slowly, and therefore the movie might not grab your interest immediately, but after this it gets very interesting, and the last half hour is absolutely spectacular in so many ways. In addition to Andrew Garfield, both Sean Bean and Rebecca Hall also give great performances in two of the movie's larger roles. The only problem I had with the movie is that it takes a little too long to get really exciting, but my god does it get good near the end. If you stick with it through the first forty minutes, you'll be surprised by how gripping the plot gets. Don't be fooled by the fact that this aired on BBC rather than in theaters because, once it really gets going, Red Riding: 1974 is a top-notch thriller that is as haunting as it is masterfully made. P.S. I would highly suggest watching it with subtitles. Some of the actors have thick Northern English accents that leads everything they say to come out as "hshrhghcnwrtytg". This only applies to certain actors of course, but without subtitles you're likely to miss a number of key plot points.

There are so many questionable scenes in this film, which make the film very intriguing to watch, as it is a trilogy, and all the answers will come forth later. Some of the dialogue makes no sense to me, but it is beautifully filmed and well-plotted, making that okay. "Red Riding: 1974" is essentially about finding a killer of children, but quite honestly, there is so much more behind the screen than you make think. Andrew Garfield is brilliant as Eddie Dunford, the journalist who is in deep investigation. The acting is top notch here and the filmmakers really know how to tell a compelling story. This is a great film!

From the time that Stieg Larsson's Millennium Trilogy had become a world wide accomplishment in crime fiction, there has been a rather large productions of crime fiction films being adapted into cinema. One of which is the Red Riding Trilogy, originally written by David Peace. Now, I know that it is something of a bold statement to say that these crime novels were adapted purely based on the success of Stieg Larsson's novels/ films, but in a way, that seems to be the main idea. Mostly due to people wanting to have a new found taste in crime. But, this is about Red Riding: In The Year Of Our Lord 1974. Okay, first thing that I need to talk about in terms of this film, and one of the main slashes against it, is how difficult it is to understand anything that any of the characters are saying. Now, this is mainly a problem due to how thick their accents are. The plus about this is that it allows the film to have that dark, British atmosphere that just makes things all the more creepier. The negative is that you can not understand anything that any of the bloody characters are saying. So, take it as you will. Me personally, I liked it because it just added to the atmosphere and the acting itself explains what the characters are saying. With the direction, nothing really stood out. I mean, yeah, this film was gorgeously shot and the idea of having all the gruesome details spoken about and never shown really did add a good bit to the film. But there are some things that the film could have done without. Mainly talking about the six or more sex scenes that occur. I am glad that you never see anything too explicit, but after a while, it does kind of get irritating and starts slowing down the pace. The one thing about this film that I need to speak of is up and coming star Andrew Garfield. Prior to this film, I saw him in David Fincher's The Social Network and he was fantastic in that film. But here, he is able to steal the show. What mainly impresses me is how he was able to copy the British dialect, the presence, and basically become a character that I doubt he could ever really pull off. But here he did. At the time this review is being written, he is currently promoting his film The Amazing Spider-Man. It is a pity that most American audiences will know him for being in red and blue tights and not as a deranged, sex loving journalist. He is, and will probably be, the main reason why most people will want to see this film and he does not disappoint. In the end, I am a sucker for crime fiction and what we have here is a rather nice, dark start to a film series that chronicles that corruption of the law, the Yorkshire Killer, and the way how anyone tries to stop the hero. Yeah, the film is hard to watch due to the dialects and how thick the accents are, but if you must, put on subtitles and watch this film. Trust me: you won't really be disappointed. Yeah, it is not great or a masterpiece, but it is worth a watch.

"Red Riding: 1974" is less about the central murder investigation than it is about the choices that its characters must make between right and wrong. It's dark, grimy, and bleak and there's this constant sense of foreboding that slowly mounts with the film's progression. Andrew Garfield is brilliant in the lead role, managing to capture and hold our attention even when nothing much is going on.
See Details